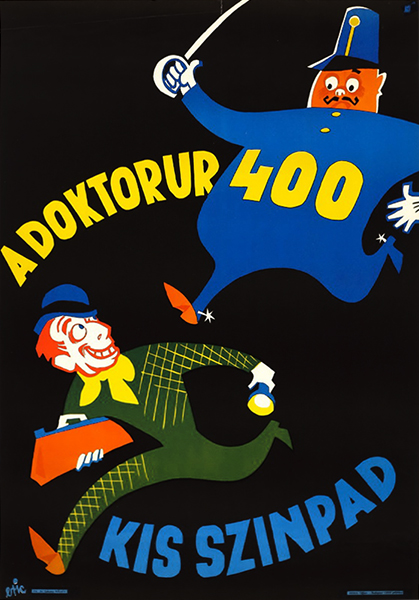 The Doctor
Hungarian title:
A Doktor úr
Size:
B2 (cca. 70 x 50 cm)
Condition:
Fine, small tears along the border.
Material:
Paper, offset lithography.
Price: US$1200
Description:
Poster for a theater play, the Doctor. It was designed by Eric Vogel, who was the costume designer of the play. Eric Vogel was a very interesting character. He graduated as a painter but he earned his living mostly from stage and costume designing. His posters always have a humorous attitude. He tends to depict moments of life or a certain play.
Vogel was a very versatile artist who wanted to become a painter but he was rejected by the Academy. He decided to learn from the greatest masters, Adolf Fényes and Lipót Herman, then he moved to Vienna where he mastered the art of interior design after which he worked with Sándor Ferenczy , a Hungarian architect. It was in Vienna where he got involved with the world of theatre and movies. He returned to Hungary after spending two years in Vienna, in 1927 when his first great success was presented on stage, in the Operetta Theatre. He designed costumes for Sári Fedák and Gyula Kabos who were among the most prominent actors of the time. He designed more than 400 plays during his career and for many of them he also made the posters.
The Doctor was a play written by Ferenc Molnár, a Hungarian novelist and playwright, who died in New York. He was a very talented artist whose plays are still among the most popular ones played in theatres. The Doctor is Ferenc Molnár's very first theatre play which pemiered in 1902. Although the play was written more than a century ago, it carries values still relevant today. It is about people trying to find themselves and doing everything without any moral concerns in orderv to reach their goal. The play is still on stage both in Hungary and abroad
The poster bears the characteristics of the unmistakable style of Eric Vogel: vivid colours, humorous characters, dynamic composition. The image shows a scene from the play, when the policeman tries to catch the thief. The black background gives a great emphasis to the blue, yellow and green colours. A lovely composition.