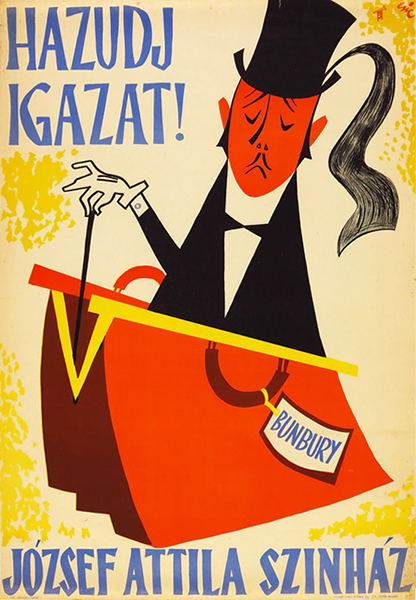 The Importance of Being Earnest
Hungarian title:
Hazudj igazat (Bunbury)
Size:
B2 (cca. 70 x 50 cm)
Condition:
Fine, small tears along the border.
Material:
Paper, offset lithography.
Price: US$800
Description:
Poster by Eric Vogel for the popular play written by one of the greatest playwrights and novelists of all time, Oscar Wilde. The play was performed in József Attila Theater and was starring such great actors as Gyula Bodrogi. The costumes weree designed by Judit Scaffer and the aet design was made by Eric Vogel, the author of this poster.
Vogel was a very versatile artist who wanted to become a painter but he was rejected by the Academy. He decided to learn from the greatest masters, Adolf Fényes and Lipót Herman, then he moved to Vienna where he mastered the art of interior design after which he worked with Sándor Ferenczy , a Hungarian architect. It was in Vienna where he got involved with the world of theatre and movies. He returned to Hungary after spending two years in Vienna, in 1927 when his first great success was presented on stage, in the Operetta Theatre. He designed costumes for Sári Fedák and Gyula Kabos who were among the most prominent actors of the time. He designed more than 400 plays during his career and for many of them he also made the posters.
The Importance of Being Earnest was first performed on 14 February 1895 at the St James's Theatre in London, it is a farcical comedy in which the protagonists maintain fictitious personæ to escape burdensome social obligations. Working within the social conventions of late Victorian London, the play's major themes are the triviality with which it treats institutions as serious as marriage, and the resulting satire of Victorian ways. Contemporary reviews all praised the play's humour, though some were cautious about its explicit lack of social messages, while others foresaw the modern consensus that it was the culmination of Wilde's artistic career so far. Its high farce and witty dialogue have helped make The Importance of Being Earnest Wilde's most enduringly popular play. (source:wikipedia.org).
The poster employs Vogel's humorous style and it depicts a man in a top-hat popping out from a bag. The ticket on the bag says: Bunbury which is the subtitle of the play in Hungarian. The character on the poster is very elegant and looks very prideful and self-important despite he obviously just got out from a handbag. He also has a swagger-stick with him. The image perfectly reflects the atmosphere of the play, the humorous attitude with a serious sarcastic tone.