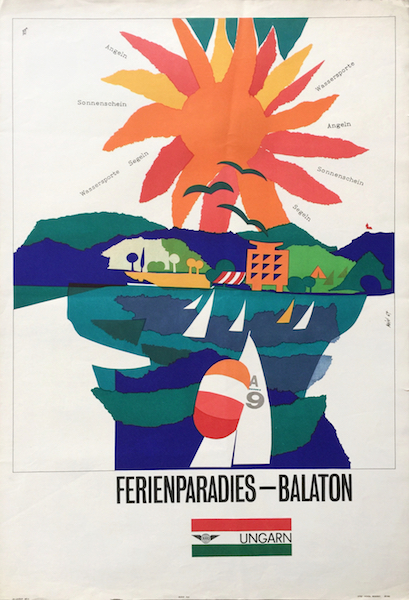 Holidays at Lake Balaton
Hungarian title:
Nyaralás a Balatonnál - IBUSZ Balaton
Size:
A1 1 Sheet (cca. 84 x 59 cm)
Condition:
Fine, light fold marks and wear.
Material:
Paper, offset lithography.
Price: US$6000
Description:
Holidays at Lake Balaton is a 1964 Hungarian vintage travel poster designed by Andras Mate.
An outstanding design by András Máté, the legendary poster designer.
András Máté was a central figure of the generation of artists that kicked off in the late 1950s, His designs have a lyrical, delicate, and harmonic character. He was one of the most talented and frequently commissioned poster artists of his time. Máté was one of the leading artists in the golden age of the film poster in the 1960s and he had the opportunity to design posters for the greatest films of the time. Beyond movies, he designed all types of posters, including commercial, propaganda and event posters. Besides, Máté often worked on posters for tourism companies of the time, such as the national bus company IBUSZ and the Hungarian airline company Malév.
This piece - along with another one for IBUSZ from 1965, which was advertising Budapest - is an antecedent to that series. It depicts a typical landscape of the lake Balaton's neighbourhood in a bit more abstract portrayal. The poster employs a rougher cutout technique: the strong colorful shapes have rough edges, which gives the image a very natural effect, and also contributes to the impression of motion. This design is a highly artistic and decorative composition that achieves first-class effect with the simplest means.
This piece can be considered one of the most beautiful Balaton travel posters.