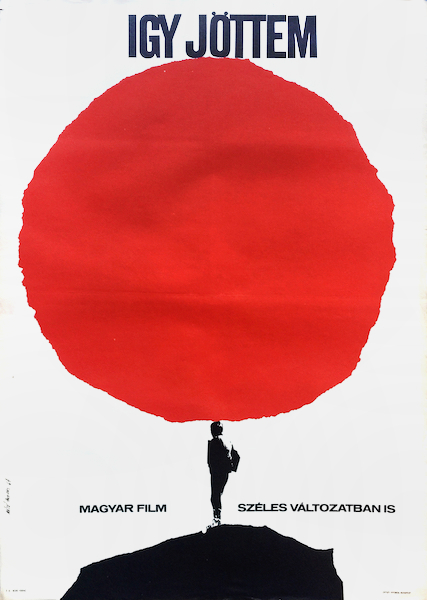 My Way Home
Hungarian title:
Így jöttem
Size:
A1 1 Sheet (cca. 84 x 59 cm)
Condition:
Fine, light fold marks and wear, small tears.
Material:
Paper, offset lithography.
Price: US$2400
Description:
My Way Home is a 1964 vintage Hungarian movie poster designed by Andras Mate for a Miklos Jancso film.
My Way Home (Hungarian: Így jöttem) is a 1965 Hungarian drama film directed by Miklós Jancsó.
In the final days of WWII, a seventeen-year-old boy wanders the countryside. He is captured by Soviet troops, then released, then captured once more - after he has donned a German uniform for warmth - and imprisoned at a remote barracks, where he strikes up an unlikely friendship with a young Russian soldier. His attempts to return home form the crux of this wonderfully lyrical film, which displays all of the director's consistent themes: the psychological presence of landscape, the randomness of violence, the arbitrary nature of power.
Director: Miklós Jancsó
Writers: Gyula Hernádi, Imre Vadász
Stars: András Kozák, Sergey Nikonenko, Béla Barsi
(source: imdb.com)