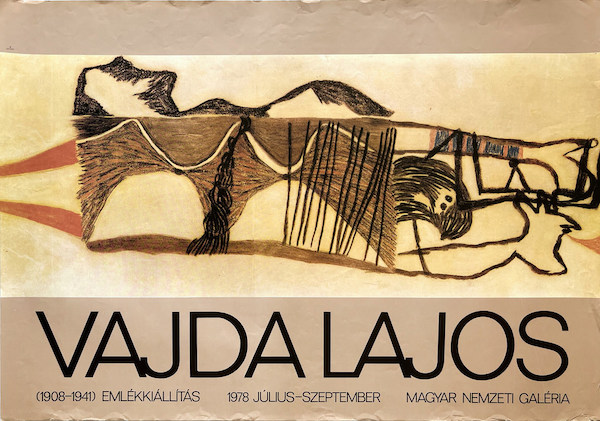 Vajda Lajos memorial exhibition
Hungarian title:
Vajda Lajos emlékkiállítás Magyar Nemzeti Galéria
Size:
A1 1 Sheet (cca. 84 x 59 cm)
Condition:
Fine, light wear along borders.
Material:
Paper, offset lithography.
Price: US$400
Description:
Lajos Vajda (1908 - 1941) was a Hungarian Painter.
He was a student of István Csók at the Hungarian Academy of Fine Arts. He studied together with Dezsõ Korniss at Fernand Léger in Paris in 1930-34 where he was introduced to cubism and surrealism.
He lived and worked in Szentendre, Hungary. Following the method of composers Béla Bartók and Zoltán Kodály he collected folk art motifs in Szentendre and Szigetmonostor for his artworks.
He combined religious (Orthodox Christian, Roman Catholic and Jewish) symbols, architectural and folk art motifs, abstract, figurative, and surrealistic elements on his pictures to create complex visionary images. His last abstract surreal drawings foreshadow the horrors of World War II. He died of tuberculosis in 1941.
He is considered to be the most distinctive of the Hungarian avant-garde movement. His art influenced generations of Hungarian artists among them the members of the European School Art Group (established in 1945) and the Vajda Lajos Studio (established in 1972).
His works can be found in museums and private collections, among them in the Hungarian National Gallery in Budapest and in the Vajda Lajos Museum in Szentendre, Hungary. (source: wikipedia.org)