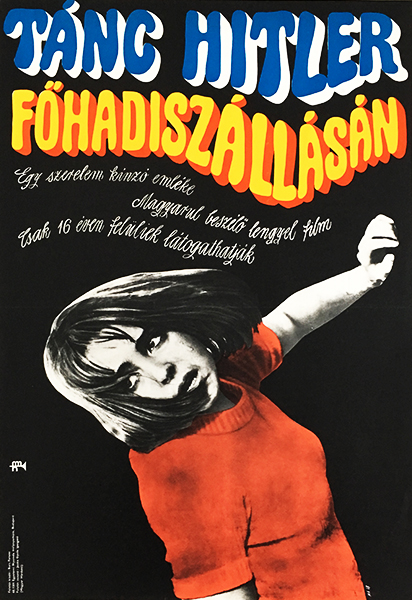 Dancing Party in Hitler's Headquarters
Hungarian title:
Tánc Hitler főhadiszállásán
Size:
A2 1/2 Sheet (cca. 59 x 42 cm)
Condition:
Fine, light fold marks and wear.
Material:
Paper, intaglio.
Price: US$320
Description:
Dancing Party in Hitler's Headquarters is a 1968 vintage Hungarian movie poster designed by Andras Mate.
Dancing w kwaterze Hitlera is a 1968 Polish film.
During the summer on Masurian lakes, the lives of three different people intersect: a young, straightforward student, a spoiled, cynical young woman, and an older German - a tourist from West Germany, who during the war has worked during construction of the Wolf's Lair as a slave laborer. Two motifs intertwine: the power of memory and the confrontation of different approaches to life.
Director: Jan Batory
Writers: Jan Batory, Andrzej Brycht (screenplay)
Stars: Maja Wodecka, Andrzej Lapicki, Olgierd Lukaszewicz
(source: imdb.com)