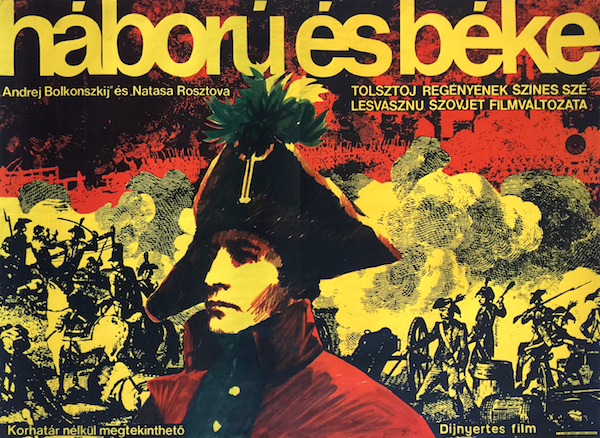 War and Peace
Hungarian title:
Háború és béke
Size:
A0 2 Sheet (cca. 116 x 82 cm)
Condition:
Fine, light fold marks and wear.
Material:
Paper, offset lithography.
Price: US$2400
Description:
War and Peace is a 1967 vintage Hungarian movie poster designed by Andras Mate.
War and Peace (Russian: Война и мир, trans. Voyna i mir) is a 1966–67 Soviet war drama film written and directed by Sergei Bondarchuk and a film adaptation of Leo Tolstoy's 1869 novel War and Peace. The film, released in four installments throughout 1966 and 1967, starred Bondarchuk in the leading role of Pierre Bezukhov, alongside Vyacheslav Tikhonov and Ludmila Savelyeva, who depicted Prince Andrei Bolkonsky and Natasha Rostova.
The picture was produced by the Mosfilm studios between 1961 and 1967, with considerable support from the Soviet authorities. At a cost of 8.29 million Soviet rubles – equal to USD 9.21 million at 1967 rates, or $50–60 million in 2017, accounting for ruble inflation – it was the most expensive film made in the Soviet Union. Upon its release, it became a success with the audiences, selling approximately 135 million tickets in its native country. War and Peace also won the Grand Prix in the Moscow International Film Festival, the Golden Globe Award for Best Foreign Language Film and the Academy Award for Best Foreign Language Film. (source: wikipedia.org)