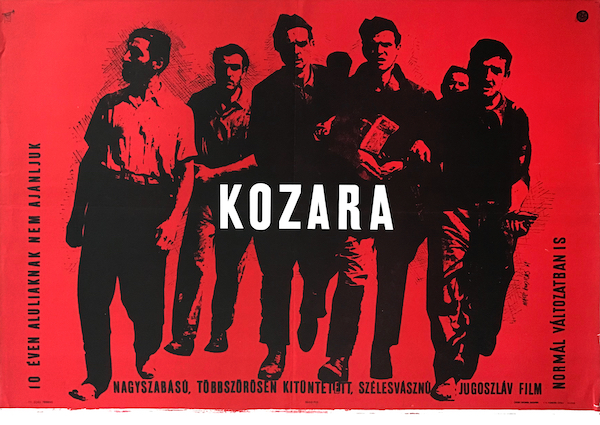 Kozara
Hungarian title:
Kozara
Size:
A2 1/2 Sheet (cca. 59 x 42 cm)
Condition:
Fine, light fold marks and wear.
Material:
Paper, offset lithography.
Price: US$240
Description:
Kozara is a 1964 vintage Hungarian movie poster designed by Andras Mate.
Kozara is a 1962 Yugoslavian film.
Battle on Kozara known as the 'third offensive' is the hardest and most tragic battle led by the Yugoslav Partisans in World War II. In June of 1942 Germans and their collaborators decide to get rid of partisans and their stronghold in the woods of Mount Kozara in Northern Bosnia. They encircle the mountain and begin the mop up operation. Out gunned and outnumbered the partisans must not only take care of themselves but try to protect thousands of refugees too.
Director: Veljko Bulajic
Writers: Stevan Bulajic, Veljko Bulajic
Stars: Bert Sotlar, Velimir 'Bata' Zivojinovic, Milena Dravic
(source: imdb.com)