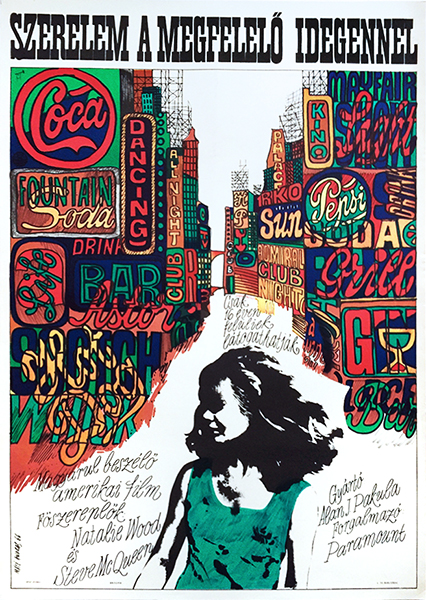 Love With the Proper Stranger
Hungarian title:
Szerelem a megfelelő idegennel
Size:
A1 1 Sheet (cca. 84 x 59 cm)
Condition:
Fine, light fold marks.
Material:
Paper, offset lithography.
Price: US$4000
Description:
Original Hungarian vintage movie poster by Andras Mate from 1966.
The poster was designed for an American romantic comedy starring Natalie Wood and Steve McQueen. The movie was nominated for 5 Oscars.
Italian-American Macy's shop-girl Angie Rossini lives with her widowed mother and her three protective brothers. She considers her life like living in a fishbowl, where her brothers control everything. That intended husband is Anthony Columbo, a shy, clumsy man, with who she doesn't hear the "bells and banjos" she envisions with romantic love. As an act of defiance, Angie has a one-night stand - her first and only sexual encounter - with womanizing jazz trumpeter Rocky Papasano, a man she doesn't even know. Rocky escaped a life much like Angie's. His Italian-American parents still live in the Bowery where he grew up and where he doesn't visit often as it reminds him of the repressive lifestyle of unhappy married people as witnessed by his old neighborhood friends. Angie manages to track down Rocky to tell him that she is pregnant with his child. Despite barely remembering Angie, Rocky decides to help Angie with the one and only thing she requests: the name of a doctor to abort the pregnancy. As Angie and Rocky spend the day together leading up to the scheduled abortion, they begin to get to know each other in all its good and bad. This day begins the process of both really figuring out what they want in life. (source: imdb.com)
Interestingly, Mate used a very similar design for his Malév (the late Hungarian airline) poster created in the same year. The design reminds the viewer of the buzz of the big cities with the tall buildings in the background and the city lights advertising Coca-Cola, Pepsi-Cola, dance clubs, bars, hot dog, drink, cinemas, night clubs. The dynamic brushwork, the intentionally random typography reflects the romantic and at the same time hectic atmosphere of the movie.