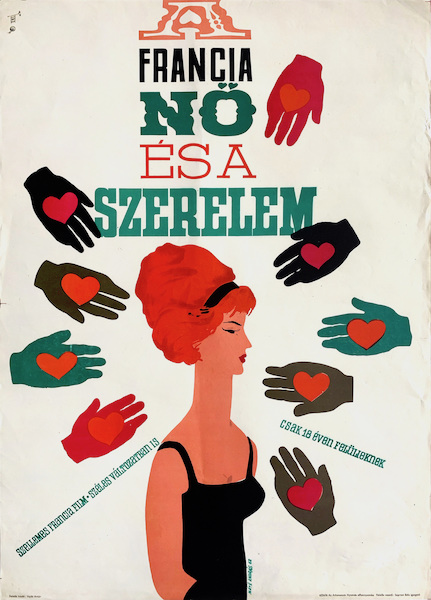 Love and the Frenchwoman
Hungarian title:
A francia nő és a szerelem
Size:
A1 1 Sheet (cca. 59 x 84 cm)
Condition:
Very good, light fold marks and wear, creasing and small tears.
Material:
Paper, offset lithography.
Price: US$2000
Description:
Love and the Frenchwoman is a 1962 vintage Hungarian movie poster designed by Andras Mate.
Love & the Frenchwoman (French: La Francaise et l'amour) is a 1960 Michel Boisrond, Christian-Jaque, Rene Clair, Henri Decoin, Jean Delannoy, Jean-Paul le Chanois and Henri Verneuil Italian-French multiple director romantic comedy.
A film in seven episodes: Childhood, Adolescence, Virginity, Marriage, Adultery, Divorce, Women Alone, France's Kinsey Report, which are only connected in that they all deal with love and sex.
Starring Jean-Paul Belmondo, Martine Carol, Darry Cowl, Sophie Desmarets, Annie Girardot, Robert Lamoureux, Paul Meurisse, Pierre Mondy, Marie Jose Nat, Francois Perier, Dany Robin, Jacqueline Porel, Pierre-Jean Vaillard, Micheline Dax, and Noel Roquevert.