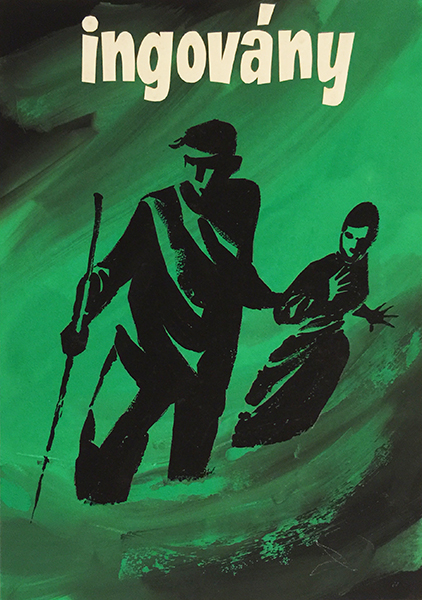 Quagmire
Hungarian title:
Ingovány
Size:
A4 (cca. 29 x 21 cm)
Material:
Paint on cardboard.
Price: US$1800
Description:
Král Sumavy was a Chech movie from 1959. It was written by Francis A. Dvorak , Karel Kachyňa és Rudolf Kalčík and directed by Karel Kachyňa. It starred Radovan Lukavský, Jiri Vala, Jiřina švorcová, Jaroslav Marvan and Vladimír Menšík. It was a drama happening in 1948, around the Iron Curtain dividing Europe.
The movie was presented in Hungary during the 1960s. This mockup is a Hungarian poster artwork, created for the film by Lajos Vajda. He was a graphic artist and a painter, mostly active during the 1960s and the 1970s. He made great advertisements for numerous commercial companies, and he designed a plenty of fine movie posters. His style was varied, effectively using a wide range of techniques. This painted poster maquette is an attractive piece with intensive, energetic brushwork and a highlighted contrast. Although it is based on only two colours, black and green, it can be highly expressive by the used graphical tools. Its visual character reflects the international and local trends in movie poster design of the 1960s.