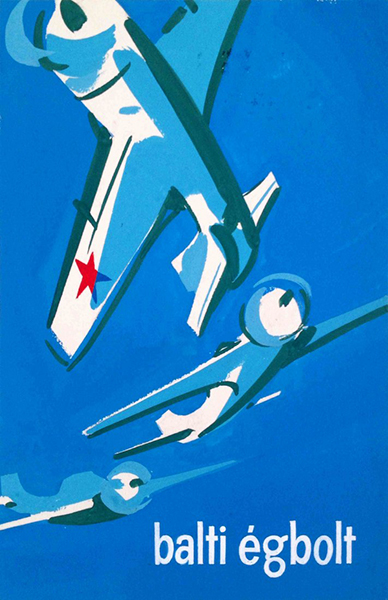 Baltic Skies
Hungarian title:
Balti égbolt
Size:
A5 1/16 Sheet (cca. 15 x 21 cm)
Material:
Paint on cardboard.
Price: US$2000
Description:
Hungarian concept art By Antal Gunda from 1961 for Baltic Skies Part 1 and 2 (Original title: Baltiyskoe nebo), Soviet war movies in 1960. It is a story about Russian pilots guarding the sky above Leningrad during WWII.
Director: Vladimir Vengerov
Writers: Nikolai Chukovsky (novel), Nikolai Chukovsky (screenplay)
Stars: Pyotr Glebov, Vsevolod Platov, Mikhail Ulyanov
(source: imdb.com)
This original vintage painted poster artwork is 14 x 21 cm.
The design is very modern and decorative, painted in an expressive manner. The colours are vivid and harmonic, the script is hand painted, and shows a decorative typography.
This is a design for a movie poster, which was never published, it has the jury's stamp "Nem javasoljuk" ("We do not recommend").