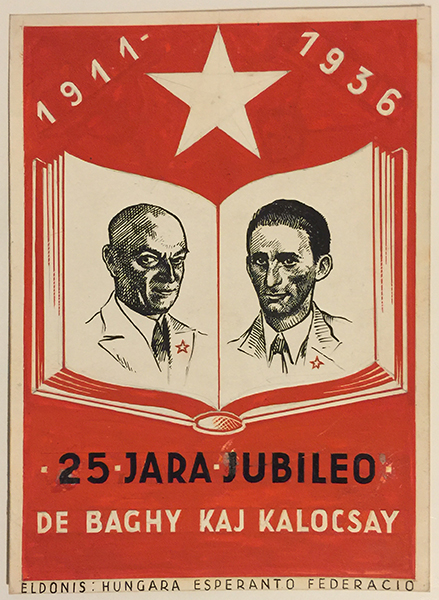 25 Jara jubileo de Baghy Kaj Kalocsay
Hungarian title:
25 Jara jubileo de Baghy Kaj Kalocsay
Size:
Book cover design (cca. 11 x 19 cm)
Material:
Paint on cardboard.
Price: US$600
Description:
This book cover design maquette was designed by Nándor Németh, a Hungarian graphic artist, who created several book illustrations and book cover designs in the 20th century. It was created in 1936, around the beginning of his career.
The design is a clear and concentrated piece, using red, white and black colours. Its main element is an opened book which contains two male portraits. The figures are drawn carefully and detailed, and they are looking into the viewer. A white star appears above between the dates 1911 and 1936, while an inscription is put below, meaning "25th anniversary of Baghy and Kalocsay" in Esperanto.
Esperanto is a constructed international auxiliary language. It was created in the late 1870s by Lazar M. Zamenhof, a Polish-Jewish ophthalmologist. His goal was to create a politically neutral language which is easy to learn and which can contribute to peace through international understanding. Although Esperanto has not been adopted as the official second language of any country, it has speakers in more than a 100 countries around the globe.
This artwork depicted Julio (Gyula) Baghy and Kálmán Kalocsay, two important Hungarian participants of the Esperanto movement. The star-motifs appearing on the design are also Esperanto symbols. Most probably, this design was created for a book commemorating the two Esperantists' collective activity.
The Concise Encyclopedia of the Original Literature of Esperanto writes about them like this:
"After the First World War, there appeared a generation of Esperanto poets, with as main figures as the Hungarians Kalocsay and Baghy and the Russian Mihalski. […] In Budapest, gathered around the review Literatura Mondo (Literary World), first published in 1922, were a group of writers led in quality by its editor-in-chief Kálmán Kalocsay and Julio (Gyula) Baghy. The group was to become known as the Budapest School (Budapeŝta Skolo), which was to profoundly influence and define poetic technique."
"Kalocsay was to dominate the following decades of poetry. His influence up to and beyond 1950 cannot be overestimated. […] The second half of the pair recognized as forming the core of the Budapest School, is Julio Baghy. While Kalocsay has been labelled 'the poets' poet', writing 'classically', Baghy may be called 'the people's poet', using a more folkloristic style. […] Baghy became perhaps the most popular, not to say loved, writer in Esperanto."
(sources:
wikipedia.org
Geoffrey Sutton: Concise Encyclopedia of the Original Literature of Esperanto, 1887-2007, p73-75)