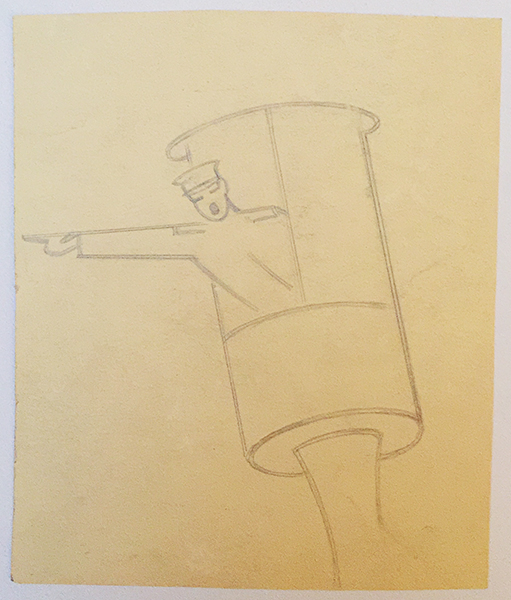 Policeman in futuristic booth
Hungarian title:
Art Deco rendőrfülke
Size:
Small poster artwork (cca. 15 x 11 cm)
Price: US$480
Description:
This is a mysterious original hand-drawn design from the 1930s. It was created by István Rottler, a popular graphic designer of the time. He created a plenty of miniature commercial design works for companies selling grocery, cosmetics and others. Many packaging design of everyday products of the time like teabags, liqueurs, egg-brandies, coffee creams, soaps, etc. can be linked to his name.
Although we know some facts about the designer of this artwork, it is a good question what the aim of the design could be. The drawing shows a policeman who is pointing to the side, leaning out from a futuristic booth. As he has the mouth wide open, he is captured probably to be ordering someone to go. It is possible that this drawing was a detail of a later bigger graphic design, but as there is little known about it, it is a puzzle.