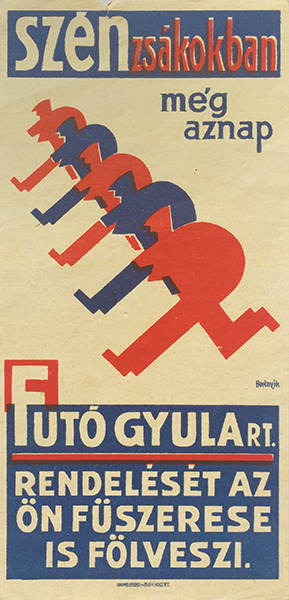 Gyula Futo coal in bags
Hungarian title:
Futó Gyula szén zsákokban még aznap
Size:
Advertising slip (cca. 6 x 13 cm)
Condition:
Fine, small paper loss at the top.
Material:
Paper, stone lithography.
Price: US$600
Description:
Gyula Futo coal in bags is a 1926 vintage Hungarian modernist avant-garde constructivist advertising slip designed by Sandor Bortnyik.
The author of the design, Sándor Bortnyik was the leading figure of modernism in Hungary, together with Lajos Kassák. At the end of the 1920s the advertising life in Budapest was restructured and, tenders were announced and the winning posters were exhibited. People realized the importance and artistic values of poster art. This was the era when modernism emerged in the country and it coexisted with another very popular, yet different style, the Art Deco.
The text on this advertising slip says: Coal in bags, in a day. Your order can be placed at your local greengrocer's. The surname of the company owner means Runner in Hungarian. Bortnyik reflected to this with depicting running men carrying bags of coal. Bortnyik often applied humour in his designs but he never did it l'art pour l'art. In this case for example, besides visually representing the company owner's name, he also referred to the prompt service they offered.
The composition is clearly modernist: the repetitive pattern, the blue and red colours, the diagonal arrangement of the figures and the typography. Simple, minimal, geometric, yet an exteremely decorative piece from one of the most determining period of Hungarian visual culture. It is a true constructivist composition built up of simple shapes where the effect is achieved by the rhythm of the colours and the graphic elements, as well as humour.