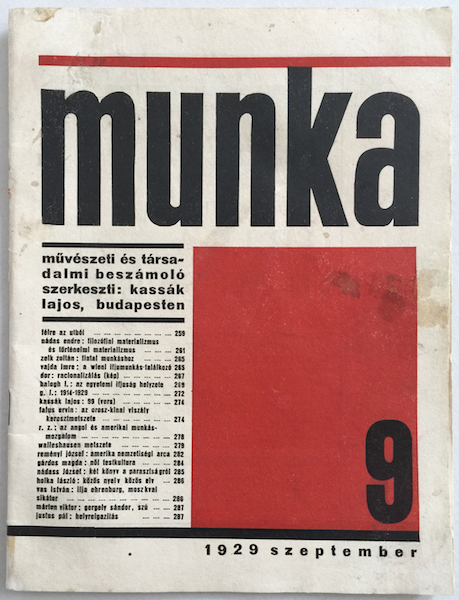 Munka 1929 No. 6 September
Hungarian title:
Munka 1929 szeptember 6. szám
Size:
Munka (cca. 20 x 26 cm)
Condition:
Fine, restored, some staining.
Price: US$600
Description:
Munka. Muveszeti es tarsadalmi beszamolo. 1929 September. No 6.
Budapest: Ifjuszocialisták Munkaközössége - Lajos Lengyel (Hungária Hirlapnyomda), 1929.
Size: 197 x 257 mm
In publisher's constructivist, typographically illustrated wrappers, printed in blue and red, designed by Lajos Kassak.
The sixth issue of Kassak's avant-garde magazine Munka (Work).
Lajos Kassak was the chief figure and organizer of the Hungarian avant-garde movement, not merely as a versatile artist who created in various artistic fields but also as the editor and publisher of the most outstanding international avant-garde magazines in Hungary and for a short period in Vienna. Munka (Work) was his last and the longest run art magazine in the Pre-World Word II period, which followed the highly influential "MA" (today) and Dokumentum (Document). Its 65 issues were published between 1928 September and 1939 June (in different format, only the first 10 had such constructivist cover like this issue).