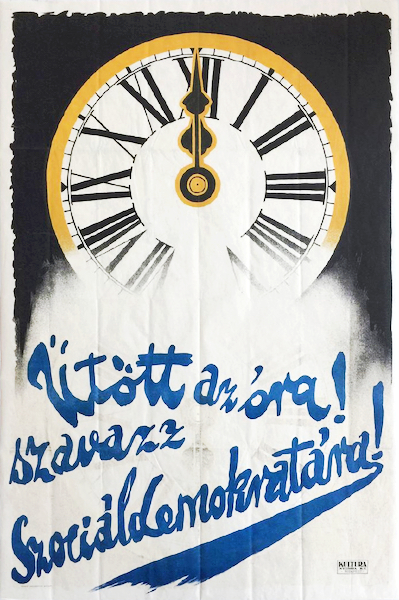 Description:
Highly dramatic election poster for the former Hungarian Social Democratic Party.
The historical Social Democratic Party of Hungary (in Hungarian: Magyarországi Szociáldemokrata Párt, in short MSZDP) was established in 1890, and by the end of 1948 it ceased to function independently. (Although the party re-emerged defiantly in the Hungarian Revolution of 1956, following the suppression of the revolution, the MSZDP disappeared again under state repression, and much of the leadership escaped into exile.)
The party grew in power and influence until World War I, which resulted in the party fracturing into pro-war and anti-war factions. The chaos which followed the war resulted in the collapse of the Austro-Hungarian Dual Monarchy. The MSZDP leadership entered into government as part of an unsuccessful post-war socialist administration. Revolution and counter-revolution resulted in a brutal backlash against opposing political camps. This led to both the Red Terror and the White Terror. Many MSZDP supporters were killed during the White Terror. The entire left-wing boycotted the elections of 1920, which resulted in a right-wing victory and continued right-wing government for the inter-war period. The MSZDP made their peace with the right wing's government in 1921, so they could continue functioning independently.
(source: Varga Lajos: A magyar szociáldemokrácia kézikönyve,1999.)
This election poster was also created in the 1920s, after the agreement. The spectacular composition is based on the image of an old-fashioned, elegant clock in black, white and yellow. It shows 12 o' clock and the inscription appears below in blue: 'The clock has struck! Vote for Social Democrats!' The background is black above and white below, creating a dramatic contrast. This, together with the expressive portrayal of the text, contributes to the decorativeness of the design.
This beautiful piece is a special historic relic from the early 20th century.