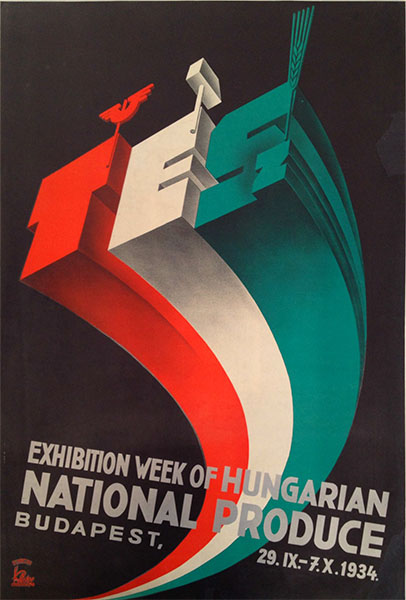 TESZ - Exhibition Week of Hungarian National Produce
Hungarian title:
TESZ - Nemzeti Munkahét
Size:
Pre-war 1 Sheet (cca. 95 x 63 cm)
Condition:
Fine, backed on Japanese paper, restored paper loss.
Material:
Paper, stone lithography.
Price: US$6000
Description:
Monumental and beautiful modern poster from 1934. The poster shows the achievements of modernist poster design in Hungary, which was flourishing in the 1920s and 1930s.
György Konecsni studied at the Academy of Fine Arts, but he started his career as a graphic designer and became a widely known poster artist in the 1930s. Initially, he was influenced by the Bauhaus-inspired modernism of Róbert Berény, Sándor Bortnyik and Lajos Kassák - later he turned to a much softer and more decorative art deco style.
The constructivist poster style became very successful after 1925 in Hungary, thanks to the great commercial posters of Berény and Bortnyik, but the political posters represented a very different style and a lower artistic quality. Only the posters of exhibitions, fairs and other commercial projects of the state were representative exceptions.
This poster was made for a governmental program to promote Hungarian products and work in general. This program was organized annually between 1933-1940 by an organization called "TESZ". TESZ was an abbreviation for "Társadalmi Egyesületek Szövetsége" (= Federation of Social Associations), which included every Hungarian associations that supported "national" cases. The birth of this federation was a result of the growing nationalism in Hungarian society.
The poster is a very modern composition and a good carrier of the nationalist message at the same time. Konecsni chose the letters as most important motives, they wear the national colours, but they appear in a monumental composition in front of a black background. Konecsni combined old-fashioned allegorical motives with this modern, typographical design. There are several symbols: Hermes' stick for the Trade, a hammer for the industry and an ear of corn for the Agriculture.
This is an English version of the poster, which was also printed in Hungary.