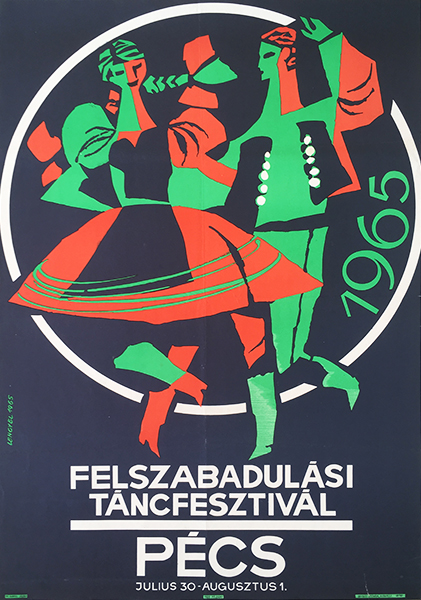 Liberation Dance Festival Pecs 1965
Hungarian title:
Felszabadulási Táncfesztivál Pécs 1965
Size:
B2 (cca. 70 x 50 cm)
Condition:
Fine, light fold marks and wear.
Price: US$400
Description:
Liberation Dance Festival Pecs is a 1965 vintage Hungarian event poster designed by Sandor Lengyel.
The poster advertises an event and the event's name refers to Hungary's liberation by the Soviet Red Army in 1945. From 1944 March Hungary was occupied by the Nazis and when the Soviets invaded the country, after a long and bloody siege they took over, thus the Germans were forced to leave. Today we call the period between 1945 and 1989 the Soviet occupation, because they liberated the country from the Nazis indeed, but then the Soviet regime stayed for more than 40 years. However, in the Socialist times people were not allowed to call it an occupation. Everyone was forced to refer to it as liberation despite the majoritiy of Hungarians thought different. Every year celebrations of the 'liberation' were held all over the country.
The poster represents dancers in folk costume, probably practicing a traditional Hungarian dance. The composition was created with paper cut technique which was common in the 1960s It is a decorative design by Sándor Lengyel.