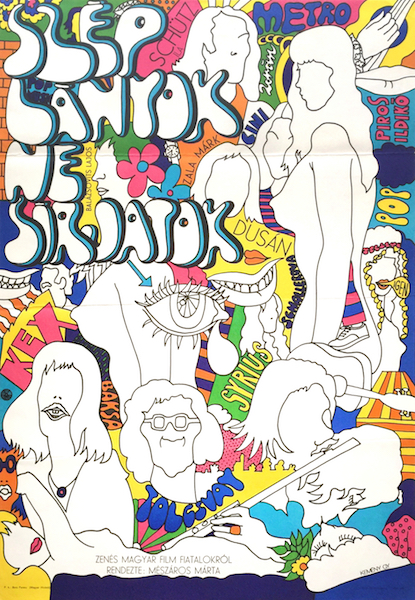 Pretty Girls, Don't Cry!
Hungarian title:
Szép lányok, ne sírjatok!
Size:
A1 1 Sheet (cca. 84 x 59 cm)
Condition:
Fine, light fold marks and wear.
Material:
Paper, offset lithography.
Price: US$4000
Description:
Pretty Girls, Don't Cry! is a 1970 vintage Hungarian Pop Art movie poster designed by Gyorgy Kemeny for a film directed by Marta Meszaros.
This poster is an outstanding piece from the Pop Art period in Hungarian art. The design was created by Gyorgy Kemeny, who was one of the firsts to introduce Pop Art painting and graphic design in Hungary. His posters show the influence of the newest American tendencies in visual arts: the paintings of Tom Wesselmann, Niki de Saint-Phalle and Andy Warhol.
This colorful composition is close to the psychedelic poster art of the US in the 1960s. Kemeny uses floating forms and extreme colours. The figures are typical hippy characters, the punctual and fine drawing defines their forms.
The movie featured many famous Hungarian pop and rock musicians and bands of the age, like Metro, Dusan, Kex, Syrius, Tolcsvay and so on. The movie and its poster are both important documents of their age.