Kemény György
1936 -
Kemény, György
Kemény is a hugely important graphic and conceptual artist of the 1960s-1980s period. Highly innovative and constantly searching for new artistic forms and styles, he was one of the first artists to introduce Pop Art to the Eastern bloc.
He was initially rejected by the University of Fine Arts, and thus decided to spend a year working in Pál Gábor's studio. He basically learnt everything about poster design and fell in love with this form of art. At the university, he studied graphics under such prominent teachers as Sándor Ék and Gyula Hincz. Some of his friends and classmates, such as László Lakner, and Dóra Maurer, also became generational artists.
Kemény became acquainted with Western art at an early age, reading foreign magazines in the Fészek Library. In 1963, he visited his master (Gábor) who emigrated to Paris, where he was introduced to artworks from Christo, Jim Dine, Niki de Saint-Phalle, Warhol, Lichtenstein, and Wesselman. Returning home, he started to design Pop Art posters.
In 1968, he put on a one-man show in Fészek Klub, where he presented Pop Art paintings, objects, and installations. The show was considered very progressive and scandalous. He took part in the life and work of underground art groups. On his exhibitions, he often showed installations and conceptual objects. He was exhibiting; and also designed the poster for a legendary Iparterv group exhibition, which is considered to be the key event of the late 1960s art in Hungary.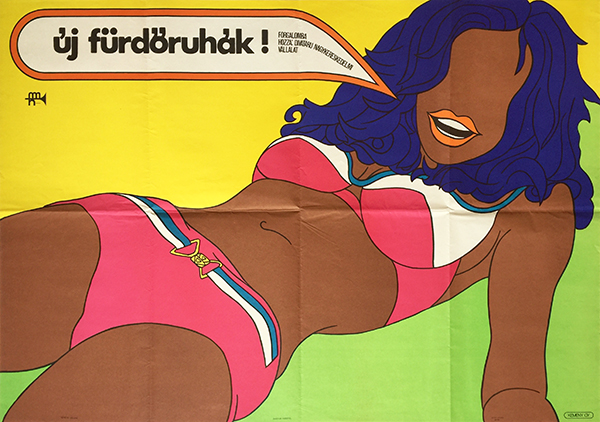 Kemeny Gyorgy New bathing suits 1969 Hungarian pop art poster
From 1971, he took part in the activities of the Papp-group. Between 1976 and 1978, together with Helényi, Bányai, Schmal and many others, he was a member of the Perspective Group of young poster artists (Perspektíva Csoport).
At the Warsaw Poster Biennale for the 30th anniversary of the Holocaust in 1975, Kemény shared first prize with Shigeo Fukuda. (He himself has personal memories from the Holocaust, which sometimes appears as a theme of his paintings).
In 1986, together with Katalin Bakos, Kemény worked on a grand exhibition of the "100+1 year-long history of Hungarian poster art". He also designed a poster for the show, which he painted in huge scale and put on the wall of Műcsarnok (Kunsthalle).
Since 2004, Kemény has been a member of the Hungarian Poster Association (MPT).
After 1963, Kemény's the influence of Pop Art could be noticed on his posters. These works presented a fresh, 'American' style that brought something brand new to the greyness of socialism. They represented the Western "consumer society", which was associated with freedom and happiness for the socialist bloc. Kemény employed the shrill colours of pop art, preferring the vivid yellows and reds. He mainly composed everyday objects and erotic scenes in which his female figures resemble those of Wesselman's. The presence of Kemény's posters on the streets caused scandals (such as his posters for new swimsuits or umbrellas). His decorative drawing style is often called "neosecession", a revival of he secession movement, which tried to break away from official academic art. During this period, he worked for commercial errands (such as washing powder or umbrellas), and made several wonderful movie posters.
He pays special attention to typography, as his letters are often original drawn forms, which are usually an inherent part of the composition.
Kemény enjoyed great success with his pop art designs, as the style soon gained widespread popularity. However, once the style became common, he decided to change and restrict his compositions to pencil drawings. On these designs the idea is more dominant than the looks--they are smart and humorous. Kemény also liked to draw expressive painting-like posters using marker and ink. Kemény has a provocative and innovative attitude which is dominant in all of his works. .
Available posters by this artist