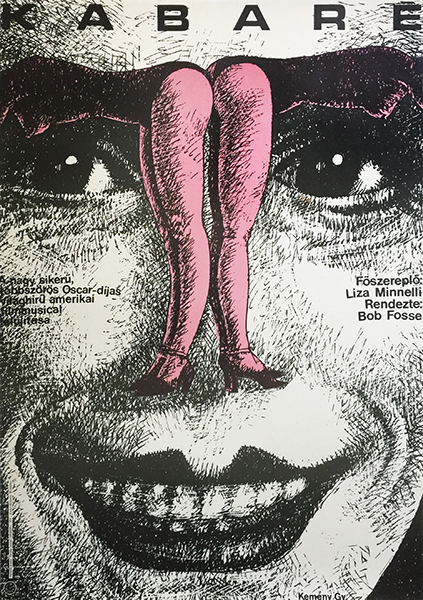 Cabaret
Hungarian title:
Kabaré
Size:
A1 1 Sheet (cca. 84 x 59 cm)
Condition:
Near mint, light wear.
Material:
Paper, offset lithography.
Price: US$3200
Description:
Cabaret is a 1973 vintage Hungarian movie poster for the first release of the film in Hungary designed by Gyorgy Kemeny.
Cabaret is a 1972 musical film directed by Bob Fosse and starring Liza Minnelli, Michael York and Joel Grey. The film is set in Berlin during the Weimar Republic in 1931, under the ominous presence of the growing Nazi Party.
Since its release, Cabaret won acclaim from critics and is considered one of the best movies of 1972 with some citing it as one of the greatest movies of the 70s. The film won the Academy Award for Best Director for Bob Fosse, Best Actress for Liza Minnelli, Best Supporting Actor for Joel Grey, and five more technical awards. Today, Cabaret is considered one of the greatest musical films ever. (wikipedia.org)
This poster is a good example of György Kemény's work from the 1970s: after his successful pop art period he decided to change and restrict his compositions to pencil drawings where the idea is more dominant than the looks - they are smart and humorous. Just like on this particular piece where the nose and the eyebrow of the face are replaced by a female figure illustrated in an erotic position.