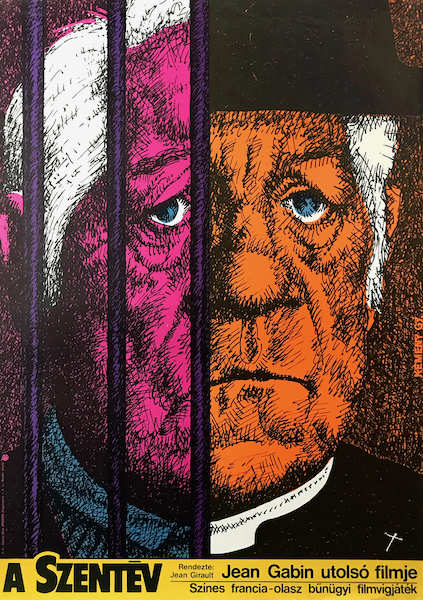 Pilgrimage to Rome
Hungarian title:
A szentév
Size:
A2 1/2 Sheet (cca. 59 x 42 cm)
Condition:
Fine, light fold marks and wear.
Material:
Paper, offset lithography.
Price: US$400
Description:
Pilgrimage to Rome is a 1980 vintage Hungarian movie poster designed by Gyorgy Kemeny.
Max, a master thief, is spending some time behind bars, having been captured by a determined and crafty police officer. He has hidden a sizable amount of gold in Italy and is patiently waiting to get out so he can retrieve it. His prison companion wants to get out now and get the gold. So they escape, dress as priests and fly off for Italy. Unfortunately, their plane is hijacked, but the terrorists are no match for Max who gets the better of them, but the delay in getting to Rome allows the police time to track him down. What will he do now?
Director: Jean Girault
Writers: Bruno Corbucci (italian screenplay), Louis-Emile Galey
Stars: Jean Gabin, Jean-Claude Brialy, Nicoletta Machiavelli
(source: imdb.com)