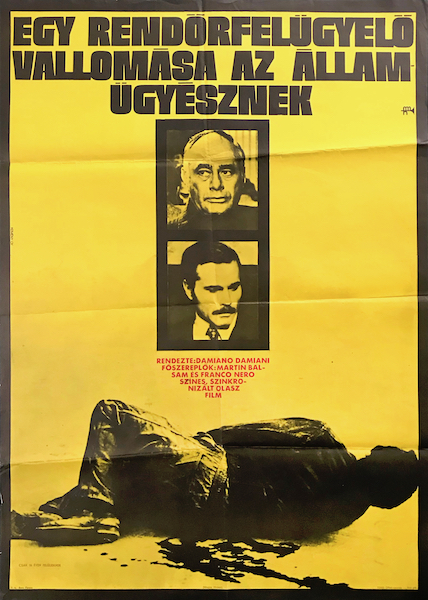 Confessions of a Police Captain
Hungarian title:
Egy rendőrfelügyelő vallomása az államügyésznek
Size:
A0 2 Sheet (cca. 116 x 82 cm)
Condition:
Fine, fold marks, light wear.
Material:
Paper, offset lithography.
Price: US$600
Description:
Confessions of a Police Captain is a 1971 vintage Hungarian movie poster designed by Gyorgy Kemeny.
Confessions of a Police Captain (Italian: Confessione di un commissario di polizia al procuratore della repubblica, also known as Confessions of a Police Commissioner to the District Attorney) is an Italian crime-drama film. The film won the Golden Prize at the 7th Moscow International Film Festival in 1971 and the Prix lntemational de l'Academie du Cinema at the Étoile de Cristal Awards in 1972.
Directed by Damiano Damiani
Produced by Mario Montanari Bruno Turchetto
Written by Damiano Damiani, Fulvio Gicca Palli, Salvatore Laurani
Starring: Franco Nero, Martin Balsam, Marilù Tolo
Music by Riz Ortolani
Cinematography Claudio Ragona
Edited by Antonio Siciliano
Release date: 26 March 1971
Running time: 101 minutes
Country: Italy
Language: Italian
(source: wikipedia.org)