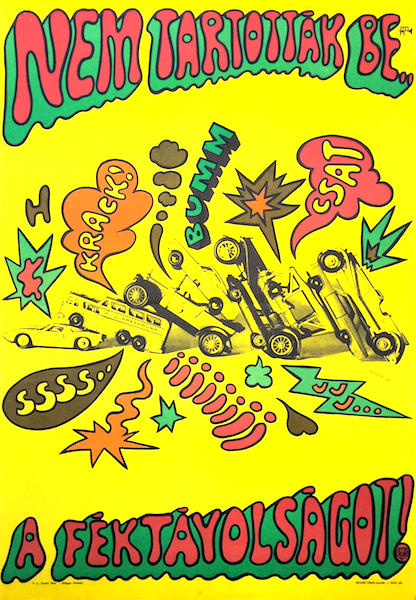 They didn't keep the safety distance!
Hungarian title:
Nem tartották be a féktávolságot!
Size:
A1 1 Sheet (cca. 84 x 59 cm)
Condition:
Fine, restored small tears along the borders, light wear.
Material:
Paper, offset lithography.
Price: US$4000
Description:
Outstanding Pop Art poster by one of the pioneers of the style in Hungarian poster art, György Kemény.
The poster was created for a very serious purpose: to make people keep the stopping distance, otherwise they might cause accidents. Yet György Kemény's design is very humorous and cheerful.
In the representation of the accident he followed the graphic style of comics. Vivid colours and floating drawn shapes are used in case of graphics and typography, and short imitative words appear in bobbles to make the scene lively. These words are both English ones, like 'krack', and also Hungarian ones, like 'bumm' or 'csat'. In one hand, it is a typical solution of the comics' action scenes to add sound effects, in the other hand, the use of two languages in case of imitative words gives an extra humorous, quasi ironic character to the design.
With its vivid colors and intensive humor, this poster represents Kemény's Pop art period at its peak.