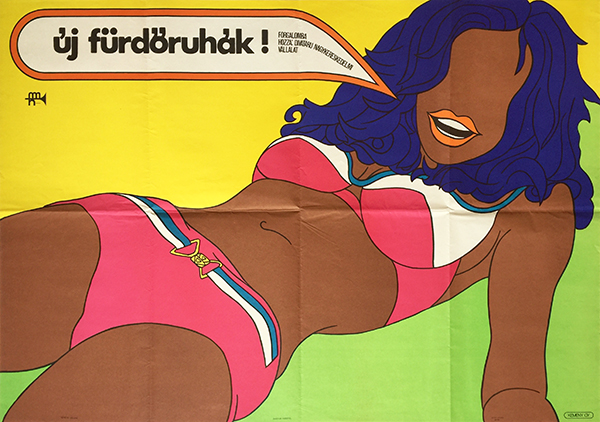 New bathing suits!
Hungarian title:
Új fürdőruhák!
Size:
A0 2 Sheet (cca. 116 x 82 cm)
Condition:
Fine, light fold marks.
Material:
Paper, offset lithography.
Price: US$8000
Description:
Original Hungarian vintage commercial poster from 1969 by György Kemény.
The poster was made when pop art style started to gain popularity in Hungary. György Kemény is one of the most significant artists who created pop art designs. He was a controversial figure in socialist Hungary whose poster art often pushed the limits and some of them were even banned by the cencorship.
The style and theme of this poster was also very bold. The posture of the lady wearing bikini, the bright colours are all provocative elements, which perfectly fulfill the goal of the poster: it instantly catches the attention of the passerby. The speech bubble creates an impression of the lady directly talking to the audience. This intriguing feeling combined with her posture results in an informal and unusual connection between the spectator and the advertised product.