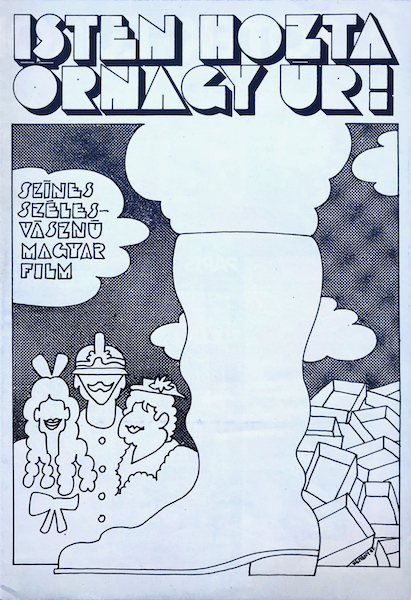 Toth Family, The
Hungarian title:
Isten hozta, őrnagy úr!
Size:
Tram poster (cca. 24 x 17 cm)
Condition:
Fine, light wear.
Material:
Paper, intaglio.
Price: US$500
Description:
The Toth Family is a 1969 vintage Hungarian Pop Art movie poster and leporello leaflet designed by Gyorgy Kemeny.
The Toth Family (Hungarian: Isten hozta, őrnagy úr!) is a 1969 Hungarian comedy-drama film directed by Zoltán Fábri. It was entered into the 7th Moscow International Film Festival.
The Tót family resides in Northern Hungary. The couple has a daughter and a son, the latter a member of the armed forces. When his weary major is ordered to take a vacation, the son talks him into a visit to his family home. Comedy endues when the Tót's go overboard trying to make things pleasant for the visiting major in hopes of an easier life for their son the soldier.
Director: Zoltán Fábri
Writers: Zoltán Fábri, István Örkény (novel)
Stars: Zoltán Latinovits, Imre Sinkovits, Márta Fónay
(source: imdb.com)
Cast:
Zoltán Latinovits as Õrnagy
Imre Sinkovits as Tóth Lajos, tûzoltóparancsnok
Márta Fónay as Mariska, Tóth felesége
Vera Venczel as Ágika, Tóth lánya
Antal Páger as Tónay, plébános
István Dégi as Gyuri, a postás
János Rajz as Sóskúti, gépész
(source: wikipedia.org)