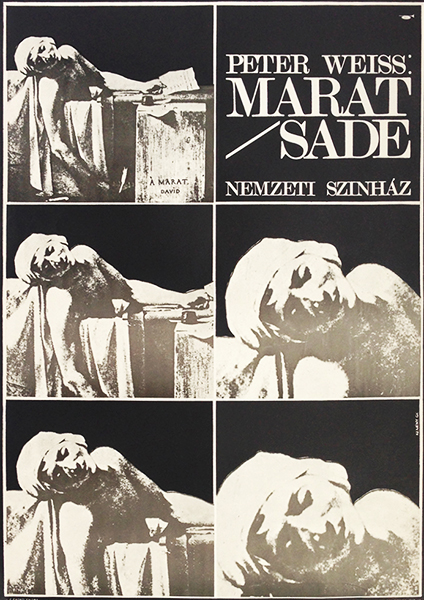 Marat / Sade
Hungarian title:
Marat/Sade
Size:
B2 (cca. 70 x 50 cm)
Condition:
Fine, light fold marks and wear.
Material:
Paper, offset lithography.
Price: US$800
Description:
The Persecution and Assassination of Jean-Paul Marat as Performed by the Inmates of the Asylum of Charenton Under the Direction of the Marquis de Sade (German: Die Verfolgung und Ermordung Jean Paul Marats dargestellt durch die Schauspielgruppe des Hospizes zu Charenton unter Anleitung des Herrn de Sade), usually shortened to Marat/Sade(pronounced: [ma.ʁa.sad]), is a 1963 play by Peter Weiss. The work was first published in German. Incorporating dramatic elements characteristic of both Artaud and Brecht, it is a bloody and unrelenting depiction of class struggle and human suffering which asks whether true revolution comes from changing society or changing oneself. (source: wikipedia.org). Kemeny used the famous painting by Jacques-Louis David, The Death of Marat as the base of this composition.