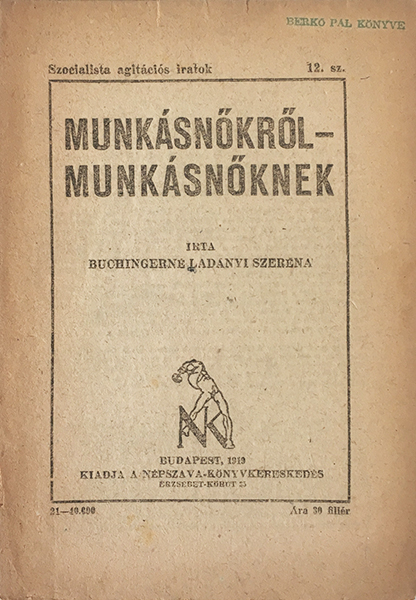 About working women - for working women
Hungarian title:
Munkásnőkről - munkásnőknek
Size:
A5 1/16 Sheet (cca. 15 x 21 cm)
Condition:
Fine. Brown and brittle paper due to acidity. Tears along the fold marks. Green cardboard cover
Material:
Paper, letterpress.
Price: US$320
Description:
About working women - to working women original Hungarian leftist propaganda material from the days of the 1919 Hungarian Soviet Republic.
Size: cca. 13,5 x 19 cm (folded in four)

A socialist agitation booklet. The booklet explains the reformed role of women in society after the Great War. It claims that during the war men were enlisted thus women had to work. The socialist system approves the right for existence of working women and this booklet is an explanation and detailed discussion of the relationship between the new political order and women in work.