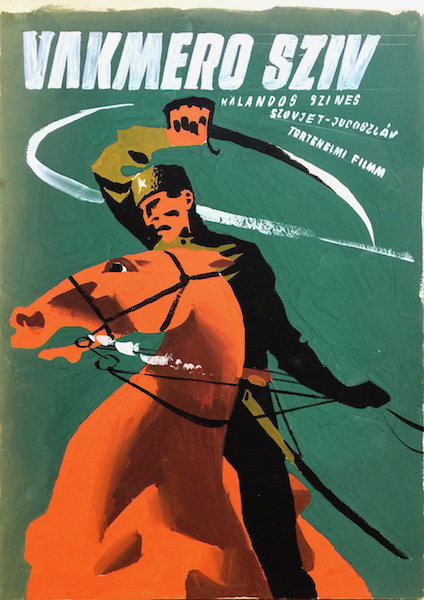 Reckless Heart
Hungarian title:
Vakmerő szív
Size:
Tram poster (cca. 24 x 17 cm)
Material:
Paint on cardboard.
Price: US$3000
Description:
Reckless Heart is a 1959 Hungarian vintage movie poster artwork designed by Lajos Vajda.
Reckless Heart (original title: Oleko Dundich) is a 1958 Soviet Russian and Yugoslavian film about the life and times of Aleksa Dundic, a volunteer in the Serb army during WW1, who later became a legend by fighting for the Red Army in the Russian Civil War.
Director: Leonid Lukov
Writers: Antonije Isakovic, Mikhail Kats
Stars: Branko Plesa, Tatyana Piletskaya, Stojan 'Stole' Arandjelovic
(source: imdb.com)
The artwork is 18,5 x 26 cm.