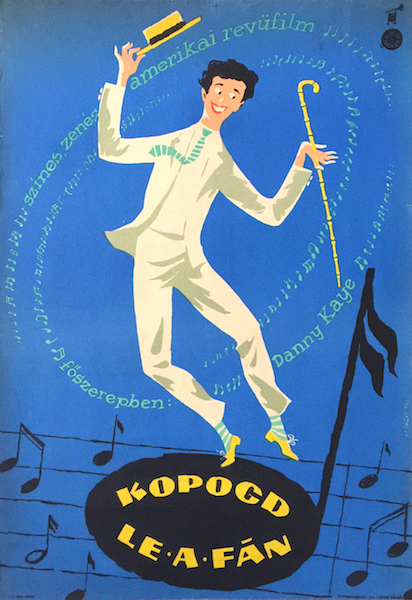 Knock on Wood
Hungarian title:
Kopogd le a fán
Size:
A2 1/2 Sheet (cca. 42 x 59 cm)
Condition:
Fine, light wear, small tears.
Material:
Paper, offset lithography.
Price: US$400
Description:
Knock on Wood is an original 1958 Hungarian movie poster designed by Tibor Jakfalvy advertising a 1954 US film starring Danny Kaye.
Knock on Wood is a 1954 comedy starring Danny Kaye and Mai Zetterling. Other actors in the film include Torin Thatcher, David Burns, and Leon Askin. The film was written and directed by Melvin Frank and Norman Panama, with songs by Kaye's wife, Sylvia Fine.
Jerry Morgan (Kaye) is a ventriloquist who is having trouble with love: just when his relationship with a woman gets around to marriage, his dummy turns jealous and spoils everything. Jerry's manager Marty threatens to quit unless Jerry sees a psychiatrist, Ilse Nordstrom (Zetterling), who tries to discover the source of his problem. The two of them eventually fall in love. At the same time, Jerry becomes unwittingly intertwined with spies and has to run from the police. In his escape, he finds himself impersonating a British car salesman, trying to demonstrate a new convertible with loads of bells and whistles. Later on, he finds himself on stage in the middle of the performance of an exotic ballet.
(source: wikipedia.org)