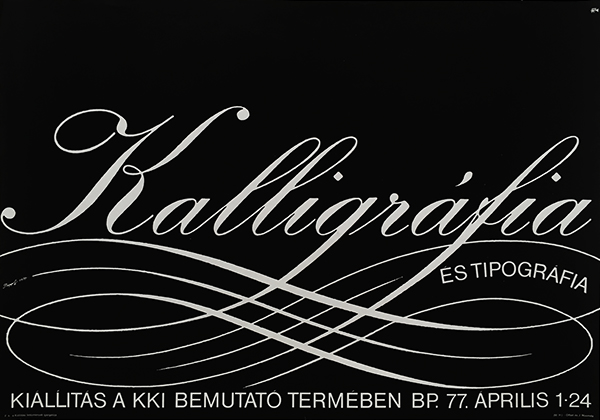 Calligraphy and Typography Exhibition
Hungarian title:
Kalligráfia és tipográfia kiállítás
Size:
A1 1 Sheet (cca. 84 x 59 cm)
Condition:
Fine, light wear.
Material:
Paper, offset lithography.
Price: US$600
Description:
Poster by Gabor Papp, for an exhibition of the Papp-group, where Hungary's most important graphic artists belonged. For example: Balogh István, Darvas Árpád, Ernyei Sándor, Finta József, Görög Lajos,Hegedűs István, Heinzelmann Emma, Máté András, Papp Gábor, Sinka Mátyás, Szilvásy Nándor, Zelenák Crescencia. The group organized its exhibitions every second year which usually took place at the same place in Dorottya street. Gábor Papp intended to process every important field of applied graphics with this exhibition series. This one focuses on typography: all the members were making designs focusing on the letters. Gábor Papp did so with this poster as well: despite that is is black-and white and typographical, it is highly artistic.
The title Kalligráfia is written in the middle with calligraphic writing. Below it with a more moder typeface the subtitle, and typography and at the bottom the address and the venue can be seen.