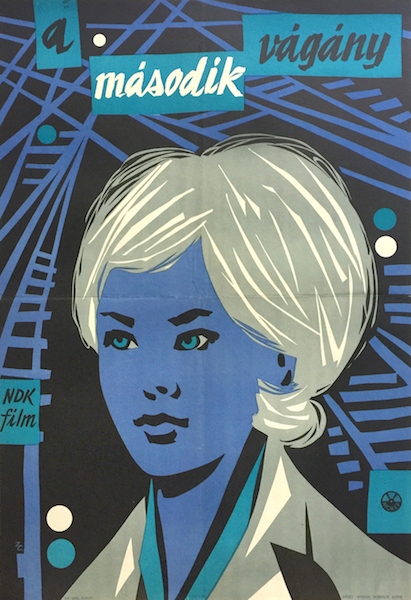 Second Track, The
Hungarian title:
A második vágány
Size:
A2 1/2 Sheet (cca. 59 x 42 cm)
Condition:
Fine, light fold marks and wear.
Material:
Paper, offset lithography.
Price: US$400
Description:
The Second Track is a 1963 vintage Hungarian movie poster designed by Crescencia Zelenak.
The Second Track (German: Das zweite Gleis) is a 1962 East German drama film directed by Joachim Kunert. It is the only DEFA film looking at the Nazi Germany history in East Germany.
Albert Hetterle - Walter Brock
Annekathrin Bürger - Vera Brock - seine Tochter
Horst Jonischkan (de) - Frank
Walter Richter-Reinick (de) - Erwin Runge
Helga Göring - Frau Gertrud Runge
Erik S. Klein (de) - Heinz Gericke
Johanna Clas (de) - Frau Anneliese Merkel
Brigitte Lindenberg - Angestellte im Kdh.
Paul Berndt (de) - Kriminalbeamter
Walter E. Fuß (de) - Lokführer
(source: wikipedia.org)