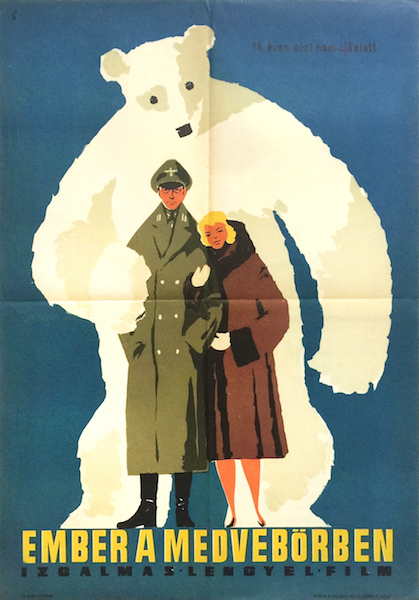 White Bear
Hungarian title:
Ember medvebőrben
Size:
A2 1/2 Sheet (cca. 42 x 59 cm)
Condition:
Fine, light fold marks and wear.
Material:
Paper, offset lithography.
Price: US$480
Description:
White Bear is a 1960 vintage Hungarian movie poster designed by Tibor Jakfalvy.
White Bear (Bialy niedzwiedz) is a 1959 Polish Holocaust film, directed by Jerzy Zarzycki. Set in early 1943, it portrays a young Jewish scientist and intellectual, Henryk Fogiel, who escapes from a transport to a concentration camp and hides in Zakapone, a resort in Tatra Mountains. He conceals his identity by wearing a white bearskin and acting as a prop for a local Polish photographer, posing with (mostly German) tourists for postcards.
Director: Jerzy Zarzycki
Writers: Robert Azderball, Jerzy Broszkiewicz
Stars: Gustaw Holoubek, Teresa Tuszynska, Adam Pawlikowski
(source: imdb.com)