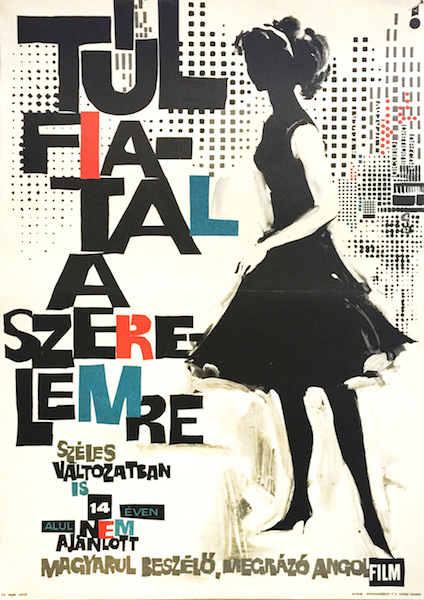 Too Young to Love
Hungarian title:
Túl fiatal a szerelemre
Size:
A2 1/2 Sheet (cca. 59 x 42 cm)
Condition:
Fine, light fold marks and wear.
Material:
Paper, offset lithography.
Price: US$400
Description:
Too Young to Love is a 1962 vintage Hungarian movie poster designed by Lajos Gorog.
Too Young to Love is a 1959 British drama film directed by Muriel Box and starring Pauline Hahn, Joan Miller, and Austin Willis. It was based on the play Pickup Girl by Elsa Shelley.
In juvenile court, 15-year-old Elizabeth (Pauline Hahn) recounts her story (in flashback) before the judge. Elizabeth lives with her working mother in New York while her father is away working in California. Elizabeth's tale is one of parental neglect and lack of guidance. She gets in with "the wrong crowd". After an affair with a sailor, she has an abortion and is eventually arrested for teenage prostitution. The judge (Thomas Mitchell) is sympathetic, but Elizabeth's fate hangs in the balance.
(source: wikipedia.org)