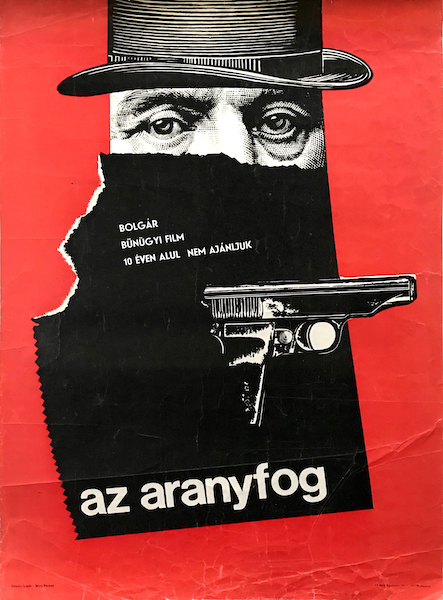 Golden Tooth, The
Hungarian title:
Az aranyfog
Size:
A2 1/2 Sheet (cca. 42 x 59 cm)
Condition:
Fine, light fold marks and wear, small tears, significant creasing.
Material:
Paper, intaglio.
Price: US$400
Description:
The Golden Tooth is a 1963 vintage Hungarian movie poster advertising a Bulgarian film, designed by Jozsef Finta.
Zlatniyat zab is a 1962 Bulgarian film.
Captain Lipovanski has been badly wounded in the World War II. The German takes him prisoner. After the end of the war, he is set free in a foreign country. He has been deceived that he has been sentenced to death as a deserter and his pregnant wife has died in a Bulgarian concentration camp. He trains for subversive activities against his own country. He is given the codename Gold Tooth. Eager for revenge, he arrives in Bulgaria. There he learns that an agent provocateur has killed his wife, that his child is safe and has been raised in a nursery, and that he himself is respected as a hero. Gold Tooth sets out to eliminate his accomplices. With a file containing valuable documents, the traitors prepare their escape abroad. The spies are caught at the border. Gold Tooth kills the last of the traitors and dies driving his lorry into a precipice.
Director: Anton Marinovich
Writers: Anton Marinovich, Kostadin Spasov
Stars: Georgi Georgiev-Getz, Stefan Pejchev, Nikola Galabov
(source: imdb.com)