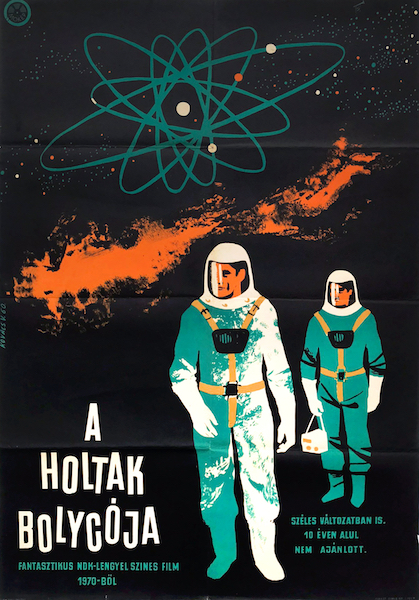 First Spaceship on Venus
Hungarian title:
A holtak bolygója
Size:
A1 1 Sheet (cca. 59 x 84 cm)
Condition:
Fine, light fold marks and wear.
Material:
Paper, offset lithography.
Price: US$4000
Description:
First Spaceship on Venus is a 1960 vintage Hungarian sci-fi movie poster designed by Vilmos Kovacs.
First Spaceship on Venus, (a.k.a. in German: Der Schweigende Stern; in Polish: Milcząca Gwiazda; literal English translation: The Silent Star), also known in English as Planet of the Dead and Spaceship Venus Does Not Reply, is a 1960 East German/Polish color science fiction film, directed by Kurt Maetzig, that stars Günther Simon, Julius Ongewe, and Yoko Tani. The film, running 93 minutes, was first released by Progress Film in East Germany. It is based on the science fiction novel The Astronauts by Stanisław Lem.
In 1962 the shortened 79-minute dubbed release from Crown International Pictures substituted the title First Spaceship on Venus for the English-speaking market. The film was released theatrically in the U.S. as a double feature with the re-edited version of the 1958 Japanese Kaiju film Varan the Unbelievable.
Some other versions of the film, differently cut and dubbed, were on the American market at the time under various titles as well: Spaceship Venus Does Not Reply, Planet of the Dead, Silent Star.
First Spaceship on Venus was later featured in episodes of both Mystery Science Theater 3000 and Cinema Insomnia. (source: wikipedia.org)