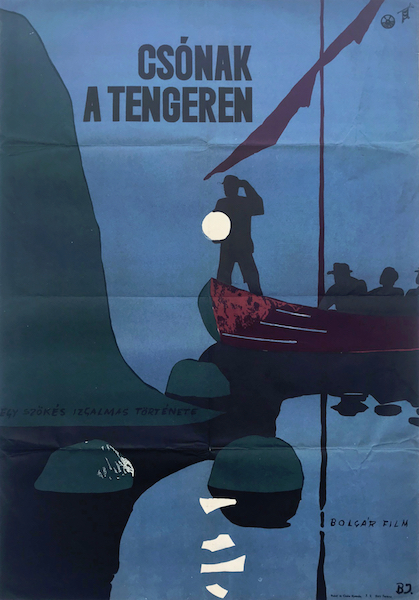 Beyond the Horizon
Hungarian title:
Csónak a tengeren
Size:
A1 1 Sheet (cca. 84 x 59 cm)
Condition:
Fine, light fold marks and wear.
Material:
Paper, offset lithography.
Price: US$900
Description:
Beyond the Horizon is a 1960 vintage Hungarian movie poster designed by Istvan Balogh.
Otvad horizonta (Отвъд хоризонта) is a 1960 Bulgarian film.
Director: Zahari Zhandov
Writer: Pavel Vezhinov
Stars: Stefan Petrov, Bogomil Simeonov, Ivan Kondov
Skipper Marin ferries passengers to the nearby beaches by his motorboat. Three men hire the boat for a crossing to the neighboring town. The captain has taken on Dafin, his brother-in-law, for his mate at this voyage. When they put out into open sea, the passengers hijack the boat at gunpoint. Stefan, a strong man, takes command. The skipper suggests that they leave him and Dafin on the island, but the communists would not take any risk. Marin wants to return to his wife, who has her belated first pregnancy. He jumps overboard, but Stefan makes him come back. The morning finds the boat in Romanian waters. They run out of gasoline. The coastguard chases them. After a violent altercation with the skipper, Stefan almost sinks the boat to break away from the pursuers. Marin spots a floating tree trunk, takes along the oars and slips out of the boat. A storm is brewing. What right does he have to abandon the rest, oar-less in the face of incoming disaster? He goes back to the boat. They row on, but the storm overtakes them. Marin goes to the shore and brings back gasoline and food. Dafin joins the three émigrés. The skipper returns home to his newborn child, but the police is waiting for him. He knows that four men, for whom he cares, are safe and bound for their destination: the Soviet Union.
(source: imdb.com)