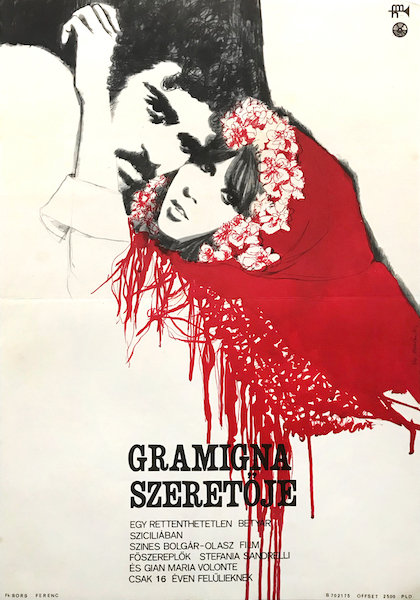 Bandit, The
Hungarian title:
Gramigna szeretője
Size:
A2 1/2 Sheet (cca. 59 x 42 cm)
Condition:
Fine, light fold marks and wear.
Material:
Paper, offset lithography.
Price: US$240
Description:
The Bandit is a 1970 vintage Hungarian movie poster.
L'amante di Gramigna is a 1969 Italian film.
Gramigna and his father are robbed of their field by Baron Nardò. The Baron let the field to Assunta and Gemma that is secretly beloved of Gramigna. Gemma succeeded to escape with Gramigna the day of her marriage with Ramarro. Love, violence, murder, revenge will follow all the protagonists till the desperate end of their existences.
Director: Carlo Lizzani
Writers: Carlo Lizzani, Ugo Pirro
Stars: Gian Maria Volontè, Stefania Sandrelli, Ivo Garrani
(source: imdb.com)