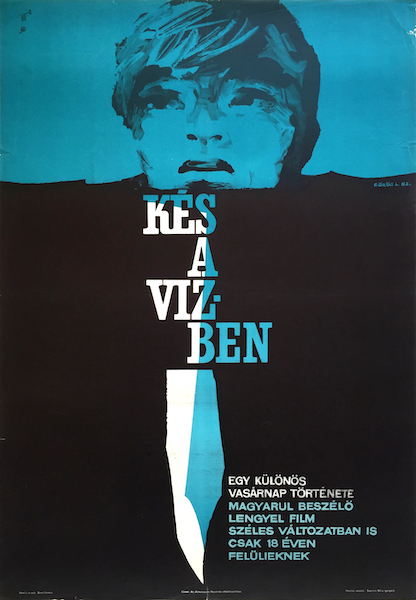 Knife in the Water
Hungarian title:
Kés a vízben
Size:
A1 1 Sheet (cca. 84 x 59 cm)
Condition:
Fine, light fold marks and wear, small tears.
Material:
Paper, offset lithography.
Price: US$2000
Description:
Knife in the Water is a 1962 vintage Hungarian movie poster released in 1963 designed by Lajos Gorog.
Knife in the Water (Polish: Nóż w wodzie) is a 1962 Polish drama film co-written and directed by Roman Polanski, which was nominated for Academy Award for Best Foreign Language Film. Polanski's first feature film, it features three characters in a story of rivalry and sexual tension. Knife in the Water has garnered acclaim from film critics since its release, and is one of Polanski's best-reviewed works.
Andrzej (Leon Niemczyk) and Krystyna (Jolanta Umecka) are driving to a lake to go sailing when they come upon a young man (Zygmunt Malanowicz) hitchhiking in the middle of the road. After nearly hitting him, Andrzej invites the young man along. When they arrive at the lake, instead of leaving the young man behind, Andrzej invites him to go sailing with them. The young man accepts the offer, and, not knowing much about sailing, must learn many hard lessons from Andrzej. Meanwhile, tension gradually builds between Andrzej and the hitchhiker as they vie for the attentions of Krystyna. The title refers to the major turning point in the film when Andrzej taunts the young man with the latter's treasured pocket knife, which is accidentally lost overboard. A fight ensues between Andrzej and the hitchhiker and the latter falls into the water. Andrzej and his wife search for him, but cannot find him and assume that he has drowned, since earlier he said that he could not swim. Andrzej and his wife quarrel about what to do, and Andrzej swims to shore to fetch the police. When the young man realizes that Andrzej has gone he comes out from hiding behind a buoy on the lake and swims to the yacht. There he sees Krystyna naked drying off. He boards the yacht and Krystyna tells him he is as bad as Andrzej but sexual attraction wins out and they have sex, off screen. Krystyna sails back to the dock, the man jumps off and goes on his way before Andrzej appears and takes charge again. He wants to go to the police to report the young man missing. Krystyna tells him that the young man returned and she was unfaithful. Andrzej does not know what to believe and at the road junction the car does not move. (source: wikipedia.org)