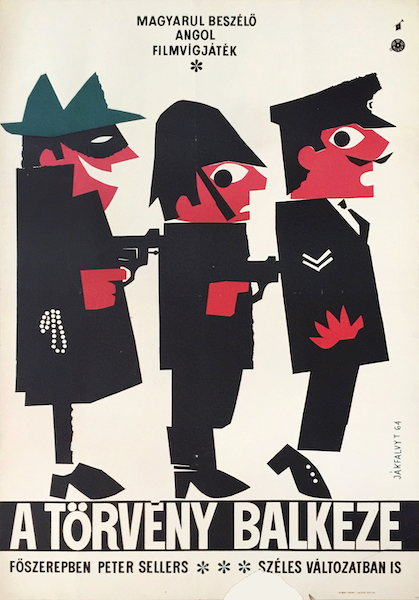 Wrong Arm of the Law, The
Hungarian title:
A törvény balkeze
Size:
A1 1 Sheet (cca. 84 x 59 cm)
Condition:
Good, light fold marks and wear, paper loss at the bottom border.
Material:
Paper, offset lithography.
Price: US$480
Description:
The Wrong Arm of the Law is a 1964 vintage Hungarian movie poster designed by Tibor Jakfalvy.
The Wrong Arm of the Law is a 1963 British film.
London in the Sixties. Organised crime gangs are working smoothly but know that, when confronted by the police, they're 'banged to rights' and need to 'come quietly '. This cosy balance, however, is disrupted when a group of Australian criminals impersonate the Metropolitan police and make off with the proceeds of the crimes after duping the criminals. Realisation of the operations of the 'IPO' gang (Impersonating a Police Officer) slowly dawns on the criminals and then the police. They then agree to work together to outwit the foreign impersonators. This leads to bungling attempts to capture the gang to great comic effect.
Director: Cliff Owen
Writers: Ray Galton, Alan Simpson
Stars: Peter Sellers, Lionel Jeffries, Bernard Cribbins
(source: imdb.com)