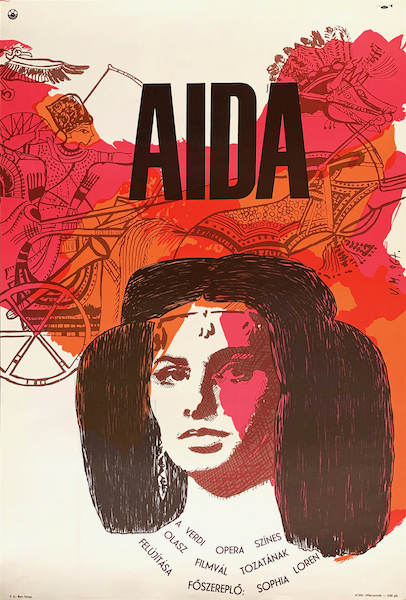 Aida
Hungarian title:
Aida
Size:
A1 1 Sheet (cca. 84 x 59 cm)
Condition:
Fine, light wear.
Material:
Paper, offset lithography.
Price: US$1200
Description:
Aida is a 1967 vintage Hungarian movie poster designed by Magda Vorosmarty.
Aida is a 1953 Italian film, featuring the actress Sophia Loren, is a film adaptation of a theatre performance written by Verdi.
Director: Clemente Fracassi
Writers: Clemente Fracassi (screenplay), Antonio Ghislanzoni (based on the libretto by)
Stars: Sophia Loren, Renata Tebaldi, Lois Maxwell
(source: imdb.com)
Aida is a 1953 Italian film version of the opera Aida by Giuseppe Verdi. It was directed by Clemente Fracassi and produced by Gregor Rabinovitch and Federico Teti. The screenplay was adapted by Fracassi, Carlo Castelli, Anna Gobbi and Giorgio Salviucci from the libretto by Antonio Ghislanzoni. The cinematography was by Piero Portalupi, the production design by Flavio Mogherini and the costume design by Maria De Matteis. The Italian State Radio Orchestra was conducted by Giuseppe Morelli, the ballet was choreographed by Margherita Wallmann. The film was screened out of competition at the 1987 Cannes Film Festival.
This is the desperate love story of an Ethiopian slave Aida (Sophia Loren) staying in the then capital of Egypt Memphis with the young Egyptian supreme commander Radames (Luciano). Aida's mistress, Amneris (Lois Maxwell), the daughter of the pharaoh is too in love with Radames. Aida doesn't know how to hide her love, and Amneris is jealous of her because of her beauty and simplicity. On the war with the Ethiopians, Egypt will concur and the pharaoh will declare the marriage of his daughter with Radames. Radames will come to meet Aida, perhaps for the last time! Aida doesn't know what to do, or whether she will get her love back? (source: wikipedia.org)