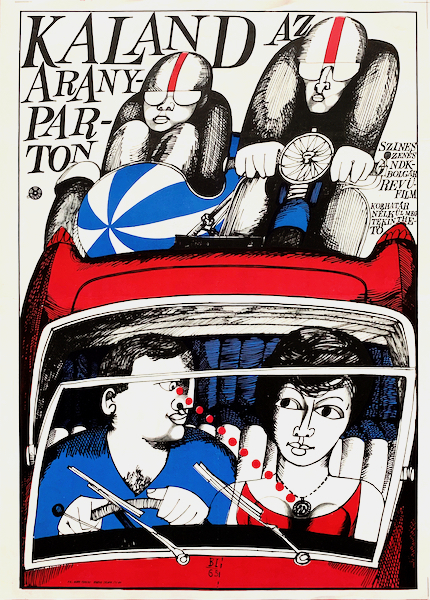 Ancient Coin, The
Hungarian title:
Kaland az aranyparton
Size:
A2 1/2 Sheet (cca. 59 x 42 cm)
Condition:
Fine, light fold marks and wear.
Material:
Paper, offset lithography.
Price: US$320
Description:
The Ancient Coin (literal translation of the Hungarian title: Adventure on the Golden Shore) is a 1965 vintage Hungarian movie poster designed by Istvan Balogh and released in Hungary in 1966.
The Ancient Coin (original title: Die Antike Münze) is a 1965 East German - Bulgarian film.
The German Schneider has long been looking for a coin known to have been struck in Bulgaria. He decides to spend his summer holiday there. On the road, a rock group going on a tour to Bulgaria overtakes him. The musicians' car breaks out and Schneider tows it to the nearest garage. At the border, the Bulgarian musicians welcome their German colleagues. Schneider meets the singer Yana and offers to give her lift to the seaside. The collector discovers that she wears the ancient coin on a chain round her neck. Yana and Schneider fall in love and thus put behind them all their differences over the ancient coin. The Yana's concert is a smashing success. Schneider and Yana leave Bulgaria together.
Director: Vladimir Yanchev
Writer: Bratya Mormarevi
Stars: Manfred Krug, Liana Antonova, Georgi Popov
(source: imdb.com)