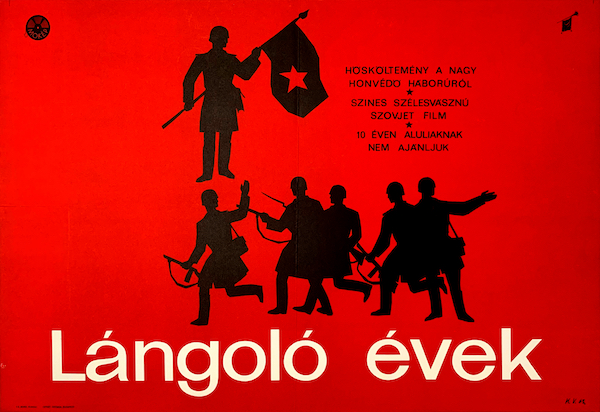 Story of the Flaming Years, The
Hungarian title:
Lángoló évek
Size:
A2 1/2 Sheet (cca. 42 x 59 cm)
Condition:
Fine, light fold marks and wear.
Material:
Paper, offset lithography.
Price: US$240
Description:
The Story of the Flaming Years is a 1963 vintage Hungarian movie poster released in 1964 designed by Vilmos Kovacs.
Povest plamennykh let is s 1961 Soviet Russian film.
In early Summer 1941, German troops penetrate into Russia, wreaking human and material destruction. Ivan Orlyukov, a young Russian, takes up arms and rises up against the invader. He is not alone : a whole people struggles with him and manages, through their own self-sacrifice, to expel the Nazis from the motherland. Altogether, they fight fiercely till the full annihilation of the enemy.
Director: Yuliya Solntseva
Writers: Sergey Bondarchuk (narration), Aleksandr Dovzhenko
Stars: Boris Andreyev, Antonina Bogdanova, Evgeniy Bondarenko
(source: imdb.com)