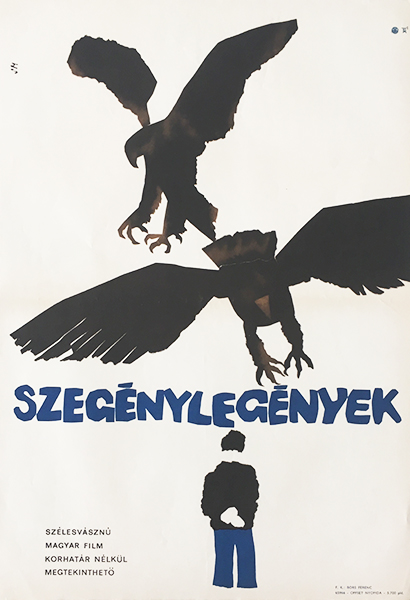 Round-Up, The
Hungarian title:
Szegénylegények
Size:
A2 1/2 Sheet (cca. 59 x 42 cm)
Condition:
Fine, light fold marks and wear, small paper loss at the lower right corner.
Material:
Paper, offset lithography.
Price: US$400
Description:
The Round-Up is a 1965 vintage Hungarian movie poster designed by Margit Sandor. This is the first release poster commissioned by MOKEP.
The Round-Up (Hungarian: Szegénylegények, "Outlaws") is a 1966 Hungarian film directed by Miklos Jancso. Well received in its home country, it was Jancsó's first film to receive international acclaim. Today, many consider The Round-Up a classic of world cinema; it was selected to be screened in the Cannes Classics section of the 2015 Cannes Film Festival.
Following the quelling of Lajos Kossuth's 1848 revolution against Habsburg rule in Hungary, prison camps were set up for people suspected of being Kossuth's supporters. Around 20 years later, some members of highwayman Sándor Rózsa's guerrilla band, believed to be some of Kossuth's last supporters, are known to be interned among the prisoners in a camp. The prison staff try to identify the rebels and find out if Sándor is among them using various means of mental and physical torture and trickery. When one of the guerrillas, János Gajdar, is identified as a murderer by an old woman, he starts aiding his captors by acting as an informant. Gajdar is told that if he can show his captors a man who has killed more people than himself, he will be spared. Fearing for his life, he turns in several people his captors had been looking for by name, but could not identify among the prisoners.
Eventually Gajdar becomes an outcast among the prisoners, and is murdered at night by some of his fellow inmates while in solitary confinement. The prison guards easily discover suspects, people whose cells had been left unlocked for the night, and start interrogating them with hope of finding Sándor himself. The suspects are tricked into revealing the remaining guerrillas when they are given a chance to form a new military unit out of former bandits and informed that Sándor, who was not among the prisoners, has been pardoned. However, the celebrating guerrillas are then told that those who previously fought under him, will still face execution. (source: wikipedia.org)