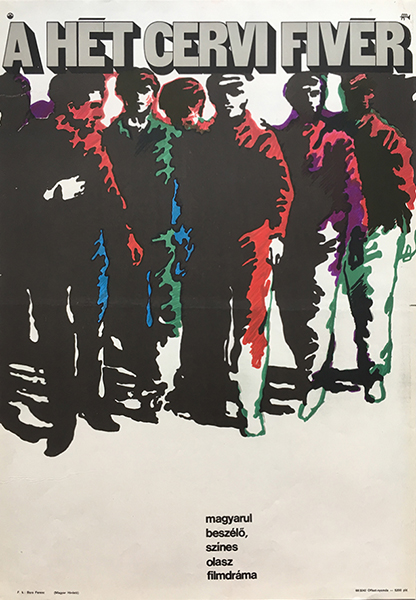 Seven Cervi Brothers, The
Hungarian title:
A hét Cervi fivér
Size:
A2 1/2 Sheet (cca. 59 x 42 cm)
Condition:
Fine, light fold marks and wear.
Material:
Paper, offset lithography.
Price: US$320
Description:
The Seven Cervi Brothers is a 1968 vintage Hungarian movie poster designed by Lajos Gorog.
I sette fratelli Cervi is a 1968 Italian film.
The Seven Cervi Brothers (Italian: I sette fratelli Cervi) is a 1968 Italian drama film directed by Gianni Puccini. The film recounts the last days of life during the resistance of the anti-fascist Cervi Brothers. The director Puccini died a few months after the end of production. The film was long blocked by the Italian censorship. (source: wikipedia.org)
The true story of seven Italian brothers, farmers and catholic, who became communist and fought for justice and freedom against Fascism. Shot in December 1943 in Reggio Emilia, they are the first and most famous heroes in the Italian "Resistenza" (resistance against Nazi-fascism).
Director: Gianni Puccini
Writers: Bruno Baratti, Gianni Puccini
Stars: Gian Maria Volontè, Lisa Gastoni, Carla Gravina
(source: imdb.com)