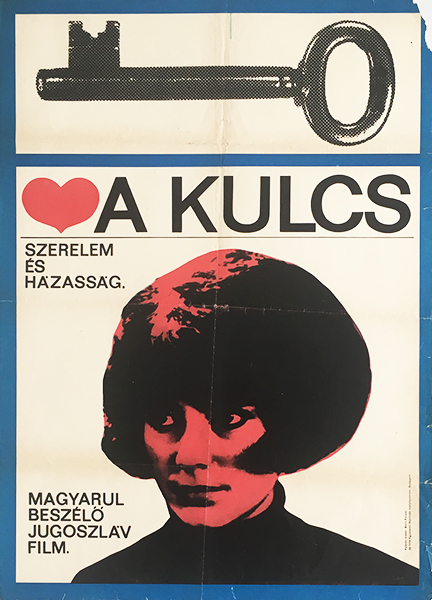 Key, The
Hungarian title:
A kulcs
Size:
A2 1/2 Sheet (cca. 42 x 59 cm)
Condition:
Very good, with fold marks, small holes and tears along the border. Paper loss at the top right corner.
Material:
Paper, intaglio.
Price: US$320
Description:
Photomontage poster in the style of the sixties, for a Yugoslavian movie.
A young man named Boris and a girl, Vera, live in the same neighborhood. They meet one night when she loses her key. Boris invites her to spend the night at his place. Married students, Ivan and Sonja, live in an old woman's apartment. She is sick and the couple hopes that she will die soon, so that they may inherit her apartment. A husband and a wife lose the key to their apartment and have to spend the night in a hotel. The experience is wonderful and renews their feelings for each other, if only for a night. (source: imdb.com)