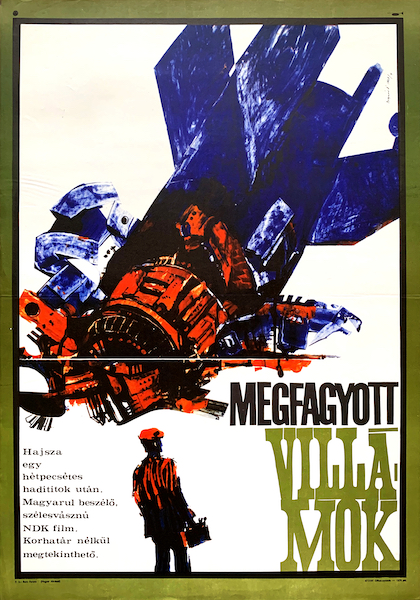 Frozen Flashes
Hungarian title:
Megfagyott villámok
Size:
A1 1 Sheet (cca. 84 x 59 cm)
Condition:
Fine, light fold marks and wear.
Material:
Paper, offset lithography.
Price: US$280
Description:
Frozen Flashes is a 1967 vintage Hungarian movie poster released in 1968 designed by Arpad Bognar.
Die gefrorenen Blitze (Frozen Lightning; English-language title: Frozen Flashes; French-language title: Et l'Angleterre sera détruite, England Shall Be Destroyed) is a two-part 1967 East-German film. The plot revolves around the history of the resistance movement in Peenemünde during the Second World War and its attempt to sabotage the V-2 program. (source: wikipedia.org)
Die gefrorenen Blitze is a 1967 East German World War 2 film.
Director: János Veiczi
Writers: Julius Mader (report Geheimnis von Huntsville) (as Dr. Julius Mader), Harry Thürk
Stars: Alfred Müller, Leon Niemczyk, Dietrich Körner
(source: imdb.com)