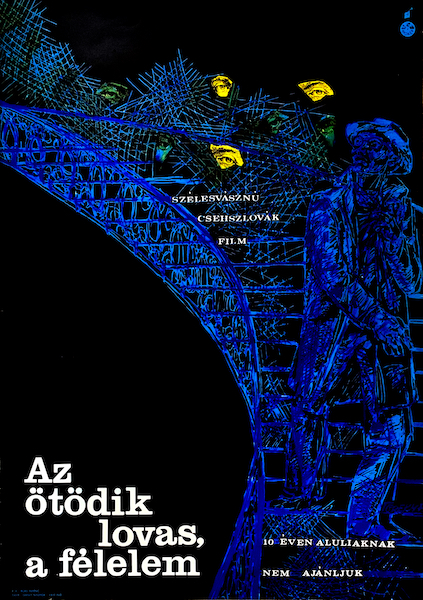 ...And the Fifth Horseman Is Fear
Hungarian title:
Az ötödik lovas, a félelem
Size:
A1 1 Sheet (cca. 84 x 59 cm)
Condition:
Fine, light fold marks and wear.
Material:
Paper, offset lithography.
Price: US$400
Description:
...and the Fifth Horseman Is Fear is a 1965 vintage Hungarian movie poster designed by Ferenc Toreky.
...a pátý jezdec je Strac is a 1965 Czechoslovakian film.
A Jewish doctor in Nazi occupied Czechoslovakia risks his life and attempts to regain his identity by assisting a wounded political fugitive.
Dr. Braun is forbidden to practice medicine because he's a Jew living in Nazi occupied Czechoslovakia. He's old, seems resigned about the fate of the Jews, and even works in the Department of Confiscation of Jewish Property. One day a neighbor asks him to assist a wounded political fugitive. Dr. Braun reluctantly operates to remove the bullet, but warns that plenty of morphine will soon be needed in order to keep the man from screaming when he awakes, which would attract unwanted attention. After some soul searching, Dr. Braun decides to redeem himself and reclaim his identify as a person and doctor by continuing to provide assistance. His search for the scarce morphine takes him on a nightmarish journey which includes a brothel where local women are forced to be prostitutes for German soldiers, a bar where the locals try to drown their misery in booze and dancing, and a Jewish insane asylum with a high suicide rate. Meanwhile, in a world where there is constant propaganda instructing...
Director: Zbynek Brynych
Writers: Milan Nejedlý (technical screenplay), Hana Belohradska (prose Bez krásy, bez límce)
Stars: Miroslav Machácek, Olga Scheinpflugová, Zdenka Procházková
(source: imdb.com)