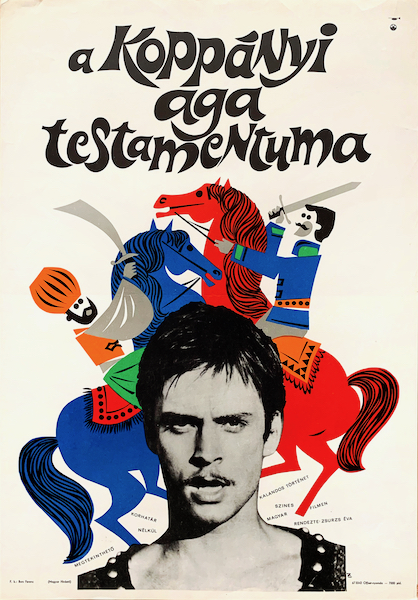 Testament of Aga Koppanyi, The
Hungarian title:
A koppányi aga testamentuma
Size:
A2 1/2 Sheet (cca. 59 x 42 cm)
Condition:
Fine, light fold marks and wear.
Material:
Paper, offset lithography.
Price: US$240
Description:
The Testament of Aga Koppanyi is a 1967 vintage Hungarian movie poster designed by Crescencia Zelenak.
The story is placed in the 16th century, during the Turkish oppression of Hungary. Laszlo Babocsai, a young Hungarian warrior defeats Oglu, the Turkish agha of the Koppány nahiyah (today: Törökkoppány, Somogy county, Hungary) in a duel. In his testament, the agha leaves him his daughter and fortune. Laszlo must protect the girl's treasures from the Walloon mercenaries plundering the county. He goes through countless adventures together with his comrades, and in the end he finds out what the real treasure is.
Director: Éva Zsurzs
Writers: Imre Bencsik, István Fekete (novel)
Stars: Ferenc Bessenyei, Klári Tolnay, Péter Benkö
(source: imdb.com)